Leading Index Rises More Than Forecast Signaling U.S. Pickup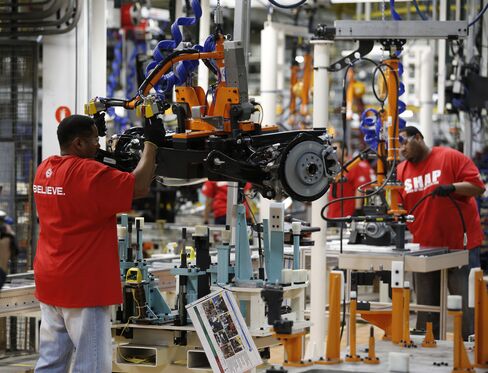 The index of U.S. leading indicators rose more than forecast in February, a sign the world's largest economy will strengthen after a weather-induced slowdown in the first quarter.
The Conference Board's gauge of the outlook for the next three to six months climbed 0.5 percent, the biggest gain since November, after a revised 0.1 percent gain the prior month, the New York-based group said today. The median forecast of 49 economists surveyed by Bloomberg called for a 0.2 percent gain.
Job market growth, climbing home values and record-high stock prices are adding to household wealth, which will probably help boost Americans' confidence. More consumer spending, which makes up about 70 percent of the economy, could make businesses willing to invest and hire.
"The general trend is still positive, and that's consistent with a pickup in the overall economy," Scott Brown, chief economist at Raymond James & Associates Inc. in St. Petersburg, Florida, said before the report. "We look for things to pick up."
Estimates in the Bloomberg survey of economists ranged from an increase of 0.5 percent to a decline of 0.2 percent.
Other reports today showed purchases of previously owned homes declined in February to the lowest level since July 2012, manufacturing picked up in the region covered by the Federal Reserve Bank of Philadelphia in March, the number of Americans filing applications for unemployment benefits last week held near the lowest level in almost four months and consumer confidence fell.
Shares Climb
Stocks rose on optimism the pickup in the leading index and manufacturing mean the worst of the weather-related economic slowdown is over. The Standard & Poor's 500 Index climbed 0.3 percent to 1,866.66 at 10:23 a.m. in New York.
Five of the 10 indicators in the leading index contributed to the increase, led by a jump in building permits and the spread between short- and long-term interest rates. Weaker consumer confidence limited the gain.
The Conference Board's index of coincident indicators, a gauge of current economic activity, rose 0.2 percent after a 0.1 percent gain in the prior month.
The coincident index tracks payrolls, incomes, sales and production -- the measures used by the National Bureau of Economic Research to determine the beginning and end of U.S. recessions.
Lagging Index
The gauge of lagging indicators, which has components such as unemployment duration and service price inflation that generally register business cycle changes on a delay, climbed 0.3 percent.
The LEI suggest "that any weather-related volatility will be short-lived and the economy should continue to improve into the second half of the year," Ataman Ozyildirim, a Conference Board economist, said in a statement.
The report helps explain why Federal Reserve officials decided to trim monthly bond purchases to $55 billion from $65 billion this week, taking another step toward unwinding the unprecedented stimulus that was put in place to help spur economic growth.
Chief Executive Officers have become more optimistic about hiring, sales and capital expenditures outlook as demand picks up, based on the Business Roundtable's first quarter 2014 survey results released this week. The association gathered responses from 122 company heads between Feb. 21 and March 7.
Housing 'Tailwind'
"There is going to be a tailwind from the housing market as well the core GDP growth," Francis Blake, Atlanta-based retailer Home Depot Inc.'s chief executive officer said in a March 19 call. "Weather hasn't been our friend at the start of the year," Blake said, yet "we still feel good about our planning assumptions for the year."
Not everyone has a positive outlook: Jack in the Box Inc., A San Diego-based operator and franchisor of fast-food restaurants including Qdoba Mexican Grill, is predicting current conditions will prevail.
"We've really looked at things as being sort of static right now," Leonard Comma, chief executive officer, said in a March 13 presentation. "It's going to be about stealing market share more so than any economic tailwind."
Before it's here, it's on the Bloomberg Terminal.
LEARN MORE