Gisele's Lingerie Line Battles Victoria's Secret in Brazil
A former Victoria's Secret model is hawking her own lingerie line
Hers is the face and form that sold thousands of thongs. For seven years, Gisele Bündchen placed her 5-foot-11 frame at the service of Victoria's Secret, helping fuel demand for the company's panties and bras. Now the Brazilian supermodel is taking on her former employer and on her own turf.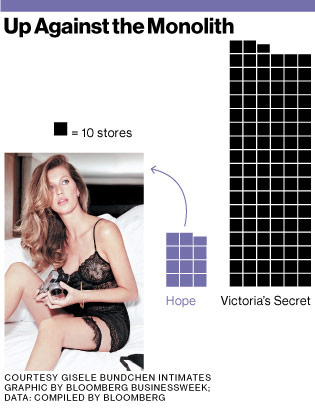 Images of Bündchen sporting her line of lacy underthings are plastered on billboards and buses in major Brazilian cities. Gisele Bündchen Intimates is the product of a three-year-old collaboration with Hope, a Brazilian maker of intimate apparel and swimwear. In May, the family-owned company will inaugurate a Gisele Bündchen Intimates store inside a luxury mall in São Paulo. That happens to be the same month Victoria's Secret will open a shop inside São Paulo's Guarulhos International Airport, its first in Brazil.
Victoria's Secret's Brazilian debut is emblematic of its corporate parent's cautious approach. By opening a small outpost in a major international airport, alongside Salvatore Ferragamo, Tory Burch, and Emporio Armani, L Brands, the Columbus (Ohio)-based parent, is targeting customers who probably already know Victoria's Secret. Although the $6.7 billion brand has more than 1,000 stores in the U.S., there are just a handful abroad—in Canada, the U.K., and the United Arab Emirates.
"When they enter international markets, they use a test-and-learn model," says Danielle McCoy, an analyst at Brean Capital in New York, noting that the company usually teams up with a well-established partner and expands only after demand has been proven. L Brands and Dufry, the duty-free concessionaire that will operate the Victoria's Secret store in São Paulo, declined to comment, as did Bündchen's twin sister, Patricia, who acts as her spokeswoman in Brazil.
Hope is already a household name in Brazil, where it operates 117 stores, also called Hope. The company is counting on its alliance with the former Victoria's Secret Angel to catapult it into lingerie's big leagues, and has plans to open Gisele Bündchen Intimates stores in London, New York, Los Angeles, and other major cities in 2015. "We still have lots of room for growth in Brazil," says Fabio Figueiredo, Hope's director of expansion, but "we want to be a global brand." Hope also plans to increase the number of countries where it sells its wares this year from 18 to 40.
Hope and Bündchen introduced her Intimates line in 2010, offering python-print corsets for 189 reais ($80), hot pink and black lace camisoles for 78 reais, and nude garter belts for 50 reais. Most of the items, like those that carry the Hope label, are manufactured at a company-owned plant in the northeast state of Ceará. Figueiredo says that because Brazilian shoppers expect new styles to be introduced each month, just 5 percent of his inventory is sourced from China. Hope's own stores generate 35 percent of revenue, a proportion the company intends to nudge higher through the addition of 50 stores this year, all in Brazil. A second Gisele Bündchen Intimates store is also a possibility. Figueiredo declined to provide any financial information, saying only that the company has set a goal of doubling sales within five years.
Hope expects Victoria's Secret's entry to step up the competition. Brazilian underwear sales grew 8.2 percent last year, to 13.1 billion reais, outpacing the 7.7 percent increase for all clothing, according to preliminary numbers compiled by Iemi Inteligência de Mercado, a local market-research company. This year lingerie sales should increase by 9 percent, Iemi estimates.
Hope is banking that its Bündchen venture will raise its profile outside Brazil. It's happened before: Her partnership with Grendene helped the little-known maker of Ipanema-brand flip-flops sell $1.16 billion of sandals last year. That, along with multimillion-dollar ad deals with everyone from Procter & Gamble's Pantene hair care line to couture designer Chanel, made Bündchen the top-grossing supermodel seven years in a row, according to Forbes. Last year she earned $42 million.
Tying with a celebrity like Bündchen, "if you're small and unknown, is going to put you on the radar in a way that not many other branding and marketing tactics would," says Leslie Farnsworth, chief executive officer of FrogDog, a Houston-based marketing strategy consultant.
Before it's here, it's on the Bloomberg Terminal.
LEARN MORE