Credit Agricole Targets Profit Above $5.5 Billion by 2016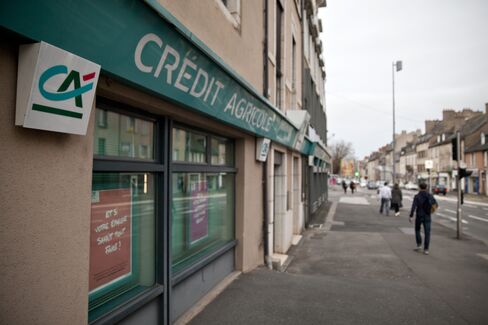 Credit Agricole SA, France's third-largest bank, is targeting at least 4 billion euros ($5.5 billion) of annual net income by 2016, above analysts' estimates, as its main European markets emerge from recession.
"We've deeply transformed our group and we are focused on the essentials," Chief Executive Officer Jean-Paul Chifflet told journalists in Paris. "We'll keep doing what we know how to do well. We are not going to improvise."
Credit Agricole returned to an annual profit in 2013, posting net income of 2.51 billion euros, following two years of losses during the European sovereign-debt crisis. The 2016 profit target exceeds the 3.79 billion-euro average earnings estimate of 12 analysts surveyed by Bloomberg. Credit Agricole trimmed its balance sheet last year by reining in market risks and selling units such as unprofitable Athens-based Emporiki Bank and some of its brokerage operations.
"The European economy will recover," said Chifflet, 64. "It won't be quick, it will be very progressive." Still, European growth is "on a tight pattern" with risks such as deflation, the CEO said.
Credit Agricole slipped 1 percent to 11.57 euros by 9:09 a.m. in Paris trading, trimming the gain this year to 25 percent. BNP Paribas SA, France's largest bank, declined 0.8 percent in the period while the Bloomberg Europe Banks & Financial Services Index gained 1.2 percent.
Dividend Prospects
Credit Agricole will seek to reach a core Tier 1 capital ratio under Basel III rules of at least 10.5 percent by the end of 2016, the bank, based outside Paris, said in a statement. Credit Agricole Group, the entity regulators and rating companies focus on, should reach a Basel III ratio of 14 percent over the same period, up from 11.2 percent in January, it said.
The dividend payout, which amounted to 35 percent of profit for 2013, might climb to 50 percent from 2015 if the capital targets are met, Credit Agricole said.
"It becomes again a bank capable of paying good dividends, and that's good news," said Alain Tchibozo, an analyst at Mediobanca SpA in London who has a neutral rating on the stock.
Capital as a portion of total assets was 3.8 percent at the end of last year and the bank will respect the minimum 3 percent leverage ratio required by regulators, Chief Financial Officer Bernard Delpit said.
Credit Agricole already complies with a rule requiring banks to hold enough easy-to-sell assets to resist a 30-day credit squeeze.
Amundi Assets
The bank, which disposed of brokers Cheuvreux and CLSA last year, is in talks with Societe Generale SA to swap its 50 percent stake in derivatives broker Newedge Group for an increased holding in asset manager Amundi Group.
Credit Agricole will seek to increase assets under management at Amundi to 1 trillion euros by 2016, from 777 billion euros at the end of 2013, partly through acquisitions "if opportunities arise," Chifflet said.
Aside from Amundi, the bank doesn't plan any takeovers, with the possible exception of private banking, he said.
Credit Agricole's listed bank has 1.54 trillion euros of assets at the end of December, down 305 billion euros from a year earlier, helped by business disposals and by the netting of derivatives traded through a clearing house, the bank said last month.
'Limited Risk'
In Italy, its largest consumer-banking market outside of France, Credit Agricole will invest 180 million euros in the Cariparma branch network to help increase revenue by an average of 5 percent annually through 2016, while reducing provisions for doubtful loans, it said.
Italy last year represented 10 percent of Credit Agricole's loans and 51 percent of its provisions, Citigroup Inc. London-based analysts Florent Nitu and Kinner Lakhani estimated in a note to investors yesterday.
The corporate and investment bank aims "to increase revenues while keeping a limited risk level," and targets a return on tangible equity of about 12 percent by 2016, it said.
"A deeper cut into capital markets would free capital and boost group earnings," Citigroup's Nitu and Lakhani wrote.