Zuma to Brush Off Scandal Over State Spending on His Home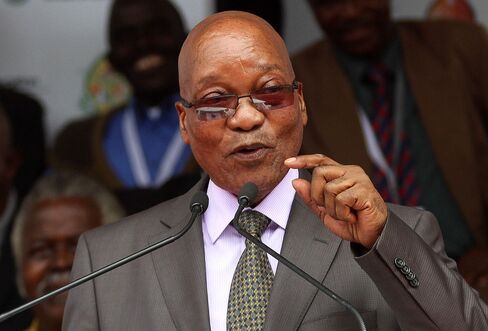 March 20 (Bloomberg) -- The South African graft ombudsman's decision that President Jacob Zuma "benefited unduly" from state-funded work on his home is the latest in a series of scandals that hasn't threatened his grip on power.
Public Protector Thuli Madonsela urged Zuma to repay "a reasonable percentage" of the project's cost of 215 million rand ($20 million) for security upgrades to his private home in Nkandla in KwaZulu-Natal province. Some funds were diverted from inner-city regeneration projects to pay for work that included building a cattle enclosure, a chicken coop and a swimming pool that was called a fire-fighting reservoir, she said.
"Some of these measures can be legitimately classified as unlawful and the acts involved constitute improper conduct and maladministration," she said. Minenhle Makhanya, Zuma's personal architect, earned 16.5 million rand from the project, according to the report.
Zuma, 71, became the nation's president in 2009, weeks after prosecutors dropped charges against him for allegedly taking bribes from arms dealers. A polygamist with four wives and 21 children, Zuma was acquitted of rape charges in 2006. An Indian family that he's friends with landed a plane at a high security air force base, breaching military rules, last year to transport guests to a wedding.
"The scandal is not water off a duck's back, but Zuma is a survivor par excellence," Anne Fruhauf, a southern Africa analyst at New York-based risk evaluator Teneo Intelligence, said by phone yesterday. "He has survived just about any imaginable type of scandal."
Zuma Jeered
Zuma has been jeered twice in the past four months at public events, including the memorial for the late Nelson Mandela attended by world leaders including U.S. President Barack Obama in Johannesburg in December.
In an interview this month, Zuma dismissed the booing as "not a big deal. I don't take anything personal from it. I am a politician."
The Public Protector's report won't inflict heavy political damage on the ruling African National Congress among poor voters, William Gumede, a political analyst at the University of the Witwatersrand, said in a phone interview from Johannesburg. About 60 percent of South Africa's voters are either unskilled or receive social grants and will remain loyal to the ANC because it remains their most likely source of an income, he said.
"They would put all of their hopes in the ANC, even if there is a failure at the top," Gumede said. "It's a survival thing for them."
Election Impact
After winning more than 60 percent in every vote since 1994, the ANC's support dropped by 10 percentage points to 53 percent in the past year, according to an Ipsos opinion poll. General elections are scheduled for May 7.
"The ANC does what it wants," Mosiuoa Lekota, a former defense minister who was an ANC member for 31 years and quit the party in 2008 to found the opposition Congress of the People. "They run the country like a principality. The only people you would find defending the ANC today are those benefiting from corruption."
There have been more than 100 protests over the lack of public services this year, according to the Pretoria-based Institute for Security Studies.
The main opposition party, the Democratic Alliance, called for the National Assembly to impeach Zuma. The Alliance said today that it sent a delegation to the site of the president's home in Nkandla in order to lay criminal charges for corruption over the improvements.
Those are "in addition to the 783 counts of corruption, money-laundering and fraud that the DA is still in court fighting for President Zuma to answer to," it said.
Opposition Ammunition
"The report has provided some ammunition to many of the parties that have nothing to offer to the electorate," ANC Secretary-General Gwede Mantashe said today in Johannesburg. While party officials involved in mismanagement "must be brought to book," it's up to the government to determine who's responsible, he said.
Madonsela said she couldn't conclude Zuma had knowingly misled parliament when he spoke about the residence in the National Assembly earlier. He should respond to the report in the National Assembly within 14 days, she said. While parliament was adjourned before the elections, it may be called back into session.
Corruption Concerns
"In many ways, Nkandla typifies voter concerns with corruption and self-enrichment by the politically connected," Mark Rosenberg, an Africa analyst at New York-based Eurasia Group, said in e-mailed comments yesterday. "We expect additional electoral fallout from the report will be limited. Zuma is highly unlikely to resign."
Zuma's province of KwaZulu-Natal, home to South Africa's Zulu ethnic group, accounts for 27 percent of ANC members. The number of voters in the province who cast ballots for the ruling party in 2009 almost doubled to 68 percent compared with 1994.
A former ANC intelligence chief, Zuma secured support for a second term as party leader from three-quarters of delegates at a 2012 conference.
"I can't see Zuma rolling over and saying: 'Here's a check," Paul Hoffman, a director at the Institute for Accountability in Southern Africa, said by phone from Cape Town today. "It's possible that Zuma will want to take the matter to court on review."
While Justice Minister Jeff Radebe said yesterday that everything built at the house was designed to enhance security, he acknowledged there were "elements of maladministration, corruption and inefficiencies" in the project.
Madonsela described the government's handling of the Nkandla project as "a toxic concoction of a lack of leadership, a lack of control and focused self-interest."
Zuma "was wearing two hats, that of the ultimate guardian of the resources of the people of South Africa and that of being a beneficiary of public privileges," she said.
To contact the reporters on this story: Franz Wild in Johannesburg at fwild@bloomberg.net; Mike Cohen in Cape Town at mcohen21@bloomberg.net; Amogelang Mbatha in Pretoria at ambatha@bloomberg.net
To contact the editors responsible for this story: Antony Sguazzin at asguazzin@bloomberg.net Karl Maier, Gordon Bell