Putin Snubs Bond Sales as Weak Ruble Proves Ally: Russia Credit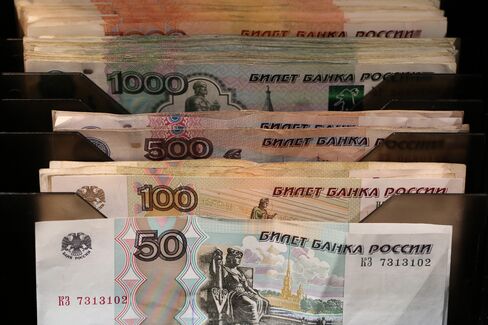 The tumbling ruble is proving an ally to Russia, boosting tax revenue from global commodity sales and allowing the government to cancel bond auctions amid the crisis with Ukraine.
The Finance Ministry scrapped its sixth debt sale of 2014 yesterday, eschewing higher borrowing costs amid a 139 basis-point increase in 10-year OFZ bond yields since Dec. 31, as Russia's incursion into Crimea stokes the biggest standoff with the West since the Cold War. President Vladimir Putin can avoid tapping markets for at least several more months, according to analysts at Bank of America Corp., Aton LLC and UralSib Capital.
Putin is being helped by the ruble, which fell 8.5 percent versus the dollar this year, because oil, natural gas and other commodity exports in the greenback mean more tax inflows in rubles, reducing the need for debt financing. Russia has to redeem 324 billion rubles ($8.9 billion) of debt this year, compared with 287 billion rubles it raised in the fourth quarter of 2013, the Finance Ministry said in a statement yesterday.
"Russia can go on without OFZ auctions until the middle of the year," Dmitry Dudkin, head of fixed-income research at UralSib in Moscow, said in e-mailed comments yesterday. "Refinancing needs this year are small" and the "weaker ruble is promising a balanced budget," he said.
Worst Performer
Russia sold 35 billion rubles of bonds this year, 19 percent of the total issued in the first quarter of last year, according to Finance Ministry data. Investors lost 15 percent in dollar terms on ruble notes in 2014, the worst performance in the Bloomberg Emerging Market Local Sovereign Index, which gained 0.6 percent.
The economy is showing "clear signs of a crisis," Deputy Economy Minister Sergei Belyakov said in Moscow yesterday, as Western leaders condemned Putin's push to annex Crimea and promised additional sanctions as early as this week. The conflict may further undermine confidence in the nation's $2 trillion economy, which will grow 1 percent in 2014, the slowest pace in five years, according to Goldman Sachs Group Inc.
"The Russian economy may become even more dependent on oil and gas, because the commodities sector benefits from the ruble's slump, while sectors that depend on imports suffer," Tatiana Orlova, a senior economist at Royal Bank of Scotland Group Plc in London, said by phone two days ago. "People are trying to urgently convert rubles into foreign currencies."
Casting Blame
In a Kremlin speech to Russian lawmakers yesterday that was met with standing ovations, Putin started the process of annexing Crimea and blamed Western encroachment for forcing him to take control of the Black Sea peninsula. While he said Russia won't attempt to split up Ukraine, Putin underscored his right to defend Russian speakers in Ukraine's east and elsewhere.
The Finance Ministry said it pulled the OFZ sale because of "unfavorable market conditions." Russia's Micex Index entered a bear market last week and the ruble slumped to a record low against the dollar.
Russia can cancel "a few auctions, but this is obviously not sustainable in the medium term," Luis Costa, a London-based emerging-market strategist at Citigroup Inc., said by e-mail March 18. "I don't think the Finance Ministry can sustain a month more of canceled auctions without impacting sentiment."
Budget Surplus
Vladimir Osakovskiy, the chief economist for Russia and the Commonwealth of Independent States at Bank of America in Moscow, said in an e-mail yesterday that the Finance Ministry "can easily abstain from the markets until the end of the year." Rinat Kirdan, head of fixed-income research at Aton in Moscow, said by e-mail the same day it could be "several months" before the sovereign taps markets.
The ruble's decline boosts the local-currency value of dollars earned by Russia's oil and natural gas sales, which contribute about half of the country's budget revenue. West Texas Intermediate crude rose for the third time in four days yesterday to $99.70 a barrel, the highest in a week.
The country ran a budget surplus of 30.5 billion rubles in January and February, Finance Ministry data show. In a bid to control state spending, Russia introduced a fiscal rule this year to link public expenditures to long-term oil prices.
Inflation Target
The ruble's decline risks fueling inflation and curbing the purchasing power of Russian consumers. Bank of America revised its year-end forecast for consumer-price growth to 5.2 percent, while Danske Bank A/S said the slide will increase consumer prices by 1 percentage point to 5.8 percent in December.
Inflation accelerated to 6.2 percent in February, compared with the central bank's 5 percent full-year target. Bank Rossii raised its main interest rate by 150 basis points to 7 percent on March 3 to shore up the ruble as capital outflows increased.
The yield on OFZ notes due in August 2023 rose four basis points, or 0.04 percentage point, to 9.25 percent as of 7:46 p.m. in Moscow. The extra yield investors demand to hold Russian debt over Treasuries fell 14 basis points to 306, JPMorgan Chase & Co. indexes show.
"Yields have clearly spiked in the past couple weeks, but it's just a matter of waiting for sentiment to stabilize and accepting a moderately higher real rate," Richard Segal, chief of credit strategy at Jefferies International Ltd. in London, said by e-mail yesterday. "The weaker ruble and higher oil price imply lower financing requirements."
Before it's here, it's on the Bloomberg Terminal.
LEARN MORE