Monte Paschi Foundation in Talks With Investors on Stake Sale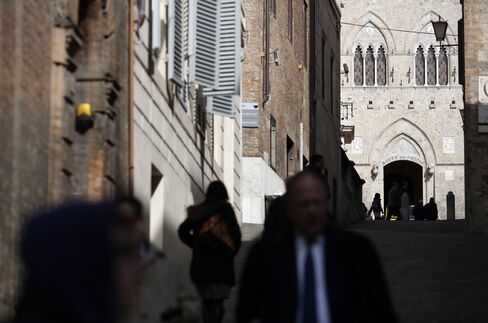 March 20 (Bloomberg) -- Fondazione Monte dei Paschi di Siena is in talks with institutional investors to sell an additional stake in Italy's third-biggest bank, said Chairman Antonella Mansi.
The non-profit foundation sold 12 percent of Banca Monte dei Paschi di Siena SpA on the market two days ago for about 335 million euros ($463 million) as it sought to reduce debt, according to terms obtained by Bloomberg News.
"Talks with foreign institutional investors are ongoing," Mansi said in a telephone interview yesterday, declining to identify them. "We are seeking a strategic investor that can back up the foundation and share control of the bank with us."
The foundation, which cut its holding to 15.07 percent, is confident of finding a buyer "in the short term, and in any case before the stock sale will start," Mansi said. Monte Paschi, the Siena-based bank, plans to raise 3 billion euros in a rights offer as soon as May to help repay state aid.
Fondazione Monte Paschi is cutting its stake to avoid insolvency and to repay loans after it piled up debt borrowing funds to back previous Monte Paschi capital raisings.
In a Jan. 27 meeting in Rome, the Italian Treasury urged Fondazione Monte Paschi to cut its stake in the lender, the world's oldest bank, and sell stock to new "stable investors" that can take part in its rights offer.
The foundation will repay all its debt with the proceeds from stakes sold so far, said Mansi. The ideal solution would be to keep a small holding in the bank, raising enough funds to take part in Monte Paschi's capital increase and avoid a further dilution, Mansi said.
To contact the reporter on this story: Sonia Sirletti in Milan at ssirletti@bloomberg.net
To contact the editors responsible for this story: Frank Connelly at fconnelly@bloomberg.net Albertina Torsoli