South Africa's Zuma Found Guilty of Misconduct by Ombudsman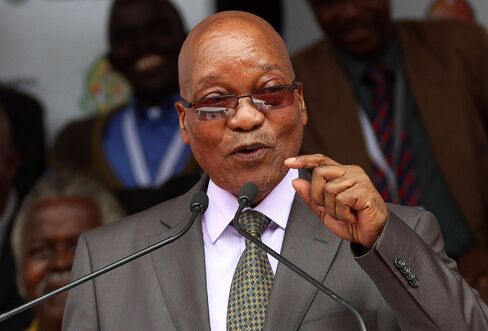 South African President Jacob Zuma is guilty of misconduct over the spending of 215 million rand ($20 million) on work at his home that included building a pool and an amphitheater, the nation's graft ombudsman said.
Thuli Madonsela said money used to pay for the work at his home in Nkandla in KwaZulu-Natal province was taken from Department of Public Works projects such as the regeneration of inner-city areas. Zuma, 71, has denied authorizing the spending on what the government said were required security upgrades. His office said he will study the report by the Public Protector.
Zuma "was wearing two hats, that of the ultimate guardian of the resources of the people of South Africa and that of being a beneficiary of public privileges of some of the guardians of public power and state resources, but failed to discharge his responsibilities in terms of the latter," Madonsela told reporters today in Pretoria, the capital.
The main opposition party, the Democratic Alliance, called for the National Assembly to impeach Zuma, who's been jeered twice in the past four months at public events. His ruling African National Congress is facing its toughest election in May, according to an Ipsos opinion poll that showed its support dropped by 10 percentage points to 53 percent in the past year. The 102-year-old ANC has won more than 60 percent in each ballot since the first multi-racial vote in 1994.
Election Impact
"If the ANC sticks with him, it is going to suffer the political consequences," Prince Mashele, Executive-Director of the Centre for Politics and Research, said today by phone from Pretoria. "He is going to be weaker and weaker within the party going forward. If they get below 60 that would be a huge psychological blow for the ANC."
Zuma, who first won control of the ANC in 2007 when he defeated former President Thabo Mbeki, became leader of the country two years later, just weeks after prosecutors dropped charges against him for allegedly taking bribes from arms dealers. A polygamist with four wives and 21 children, Zuma was acquitted of rape charges in 2006. In 2010, he confirmed he fathered a child with the daughter of a friend.
The presidency has "consistently been concerned about the allegations of impropriety around procurement" on the work done at the Nkandla home, Zuma's office said in a statement. "The Public Protector's report will be an additional tool, which will fall under the consideration of President Zuma in addressing allegations of maladministration."
Security Enhancement
Justice Minister Jeff Radebe said everything built at the house was designed to enhance security.
"The retaining wall, cattle kraal and culvert, fire pool and water reservoir, accommodation for security personnel and visitors area are all essential security features," Radebe told reporters in Pretoria.
There were "elements of maladministration, corruption and inefficiencies" in the project, he said.
Minenhle Makhanya, Zuma's personal architect, earned 16.5 million rand from the project, according to Madonsela. She called on Zuma to "pay a reasonable percentage of the cost of the measures."
Zuma should make comments on the report to the National Assembly within 14 days, Madonsela said. While parliament was adjourned before the elections, it may be recalled.
State Resources
"The president tacitly accepted the implementation of all measures at his residence and has unduly benefited from the enormous capital investment from the non-security installations at his private residence," Madonsela said. "Zuma's failure to protect state resources violated the executive ethics code and amounts to misconduct."
Madonsela said she couldn't conclude that Zuma had misled parliament when he spoke about the residence in the National Assembly earlier.
"I have spoken to members of parliament, the joint ethics committee and they will receive the report, but because Parliament has adjourned, it means Parliament may not be able to do much about it," she said.
Zuma, speaking earlier in an interview broadcast by Johannesburg-based ENCA television, said "we will abide" if the findings are accurate. "If not, that's a different matter."
The report "seemed to confirm largely what we already knew from the papers and there was not really any killer additional blow," said Peter Attard Montalto, an emerging markets strategist at Nomura Holdings Inc. in London, in an e-mailed response to questions. "It is unlikely to seriously shift people's voting habits or make Zuma appear in a new light or certainly not policy we don't see it as market moving."
The rand was little changed at 10.7427 to the dollar as of 5:50 p.m. in Johannesburg.