Putin Orders Approval of Accord on Crimea Accession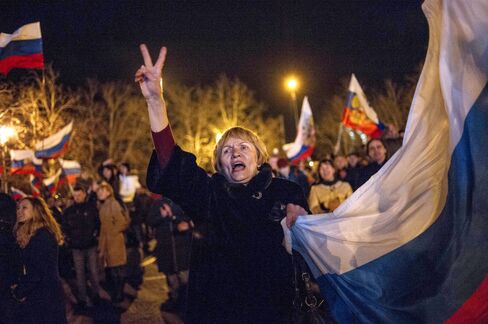 March 18 (Bloomberg) -- President Vladimir Putin said he supported a request from Ukraine's breakaway region of Crimea to join Russia after recognizing the Black Sea peninsula as an independent state.
Russia should sign a treaty accepting Crimea's accession, according to an order signed by Putin and published on a government website today. He is scheduled to address lawmakers and regional leaders at 3 p.m. in Moscow to discuss Crimea, which voted on March 16 to join Russia.
The move signals Russia won't back down from annexing the territory after U.S. and European Union imposed sanctions on Russian officials and threatened further measures to dissuade Putin from taking Crimea. Russian stocks and the ruble added to gains yesterday after the penalties were announced as investors speculated that the immediate effect would be muted.
"Further provocations will achieve nothing, except to further isolate Russia and diminish its place in the world," U.S. President Barack Obama said yesterday at the White House. The U.S. can "calibrate our response" based on whether Russia chooses "to escalate or to de-escalate the situation."
To contact the reporter on this story: Olga Tanas in Moscow at otanas@bloomberg.net
To contact the editors responsible for this story: James M. Gomez at jagomez@bloomberg.net Scott Rose, John Fraher