Greece Targets Bond Sale Before Euro Elections: Minister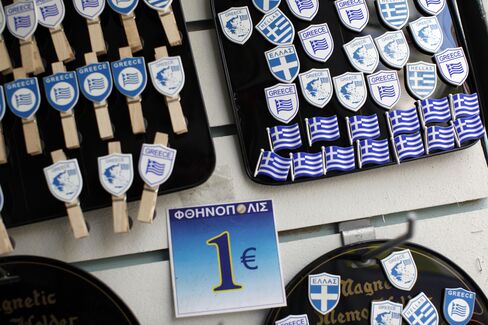 Greece will probably sell bonds for the first time in four years before May as the nation seeks to rebuild its finances following an international bailout, Infrastructure Minister Michalis Chrisochoides said.
"We will get the next loan tranche, the country will return to markets, with a slightly high interest rate, which will fall after, and Greece won't remain in this drama of quarterly troika reviews," Chrisochoides, 58, said in an interview in Athens yesterday. The sale will be part of "a series" of positive developments before this May's European Parliament elections, he said.
Greece today reached an agreement with the so-called troika of the European Commission, European Central Bank and International Monetary Fund on all "the most important policy areas" in the review of the latest adjustment program, Simon O'Connor, spokesman for EU Economic and Monetary Affairs Commissioner Olli Rehn told reporters in Brussels. The deal paves the way for the disbursements of the next tranche of the international bailout program to Greece.
Investors are returning to markets they shunned during Europe's sovereign-debt crisis, helping push the average yield to maturity on securities from Greece, Ireland, Italy, Portugal and Spain to euro-era lows last week, according to Bank of America Merrill Lynch indexes. Portugal, which is due to end its 78 billion-euro ($108 billion) rescue program in May, today bought back bonds due in 2015 to smooth out debt repayments. Ireland, which exited its bailout program in December, raised 1 billion euros last week in its first bond auction since September 2010.
Benchmark Yield
Greek Prime Minister Antonis Samaras's government has prioritized accessing markets this year. "Ideally, we'd like to have no new loans from our European partners," Finance Minister Yannis Stournaras said Jan. 9.
The 10-year benchmark yield fell below 7 percent, reaching 6.83 percent at 1:54 p.m. local time. Greece also sold 1.3 billion euros of 3-month Treasury bills with a uniform yield of 3.1 percent today, the lowest since January 2010.
The outcome of the European elections won't affect political stability in Greece, where Samaras's coalition government is clinging to a three-seat majority in the 300-seat Parliament, said Chrisochoides, who took his first ministry post 20 years ago. His Pasok party, in government for 25 of the 40 years since the end of the military dictatorship in 1974 and now junior partner in Samaras's coalition, won't collapse, he said.
Infrastructure Projects
A March 15 poll by Alco indicated that Greece's main opposition Syriza party, which has vowed to annul the bailout agreement with the troika, will get 19.1 percent support in the European elections, compared with 18 percent for the governing New Democracy. Pasok polled 5.1 percent, compared with a 36.7 percent result in the last European Parliament election in 2009.
Greece in the next few weeks will begin tenders for a 750 million-euro airport project on the island of Crete and a 400 million-euro highway between Corinth and Patras, Chrisochoides said. Greece will also complete a high-speed rail network by the end of 2017, he said.
The government plans to submit legislation before April 18 to turn Athens and Thessaloniki into logistics hubs and will invest 50 million euros to create wireless hotspots around the country, fulfilling a Nov. 4 promise by Samaras to provide free national Internet access within a year, Chrisochoides said.
In tourism, a vital part of the Greek economy, airport slot bookings indicate that arrivals will rise 20 percent this year, Chrisochoides said.