PBOC Says It Didn't Join 'Emergency' Meeting on Developer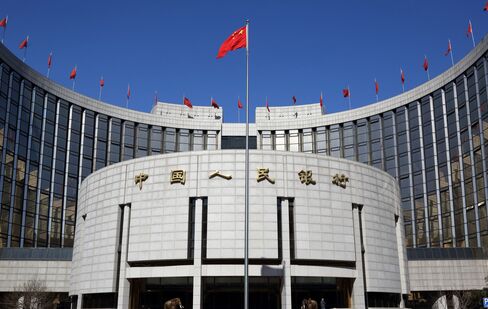 China's central bank denied that it took part in an "emergency meeting" about a collapsed property developer with 3.5 billion yuan ($565 million) in debt.
The People's Bank of China said yesterday it's not involved in dealing with risks from the collapse of Zhejiang Xingrun Real Estate Co. News website Sina.com later reported that China Construction Bank Corp. took part in non-emergency coordination meetings yesterday with officials from the local branches of the PBOC and China Banking Regulatory Commission, citing an unidentified person.
Officials from Fenghua, where Zhejiang Xingrun is based, are discussing resolutions after the company was unable to repay its debts and its largest shareholder was detained, according to people familiar with the matter. The collapse adds to strains in real estate as the government seeks to rein in property prices.
The central bank issued the statement on its official microblog yesterday. It referred to wording that was used in a Financial Times report yesterday without identifying the newspaper.
Officials from PBOC and CBRC branches in the eastern city of Ningbo joined meetings yesterday on how to contain risks from the collapse, said three government officials with knowledge of the situation who asked not to be identified as they weren't authorized to speak publicly about the matter.
Shareholder Detained
Closely held Zhejiang Xingrun's majority shareholder and his son, its legal representative, have been detained and face charges of illegal fundraising, the officials previously said.
"We believe this is merely one example of many distressed small developers in China," Standard & Poor's credit analyst Bei Fu said in a statement yesterday. Consolidation in the property industry will accelerate this year, S&P said.
Creditors including China Construction Bank and officials from Ningbo and Fenghua also participated in the discussions on possible resolutions including a bailout of the developer by the local government, the officials said.
The extent of any intervention to ease creditors' losses is a potential signal of how far Premier Li Keqiang's government is willing to go to forestall market turmoil from failed companies or financial products amid a slowing economy. At the same time, bailouts may increase dangers of moral hazard, where firms take on more risk in anticipation of government aid if their bets sour.
The banking regulator's press office didn't immediately respond to a faxed request for comment yesterday.
Calls to China Construction Bank after business hours yesterday seeking comment on the Sina.com report weren't answered. A Beijing-based press officer said earlier in the day that the bank was following the situation closely.
The Shanghai Property Index fell 1.3 percent at 1:12 p.m. The gauge had dropped 10 percent this year through yesterday.
— With assistance by Steven Yang
Before it's here, it's on the Bloomberg Terminal.
LEARN MORE