China Home-Price Growth Slows in Big Cities on Tight Credit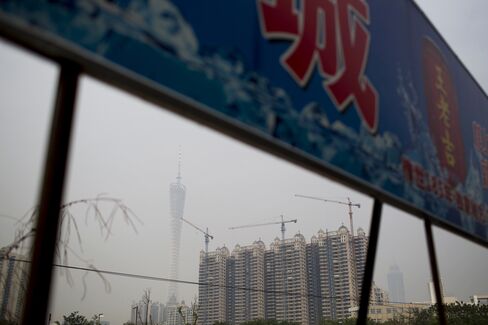 Chinese new-home price growth slowed last month, led by the four cities the government defines as first tier, amid tighter credit to rein in excessive borrowing and individual city measures to curb property prices.
Prices in Beijing and the southern business hub of Shenzhen each rose 0.2 percent in February from a month earlier, the National Bureau of Statistics said today. That was the slowest pace since October 2012. They added 0.4 percent in Shanghai, the smallest increase since November 2012, and gained 0.5 percent in Guangzhou. Prices climbed in 57 of the 70 cities tracked by the government. That compares with 62 in January.
"Overall, we see the property sector as becoming increasingly a major and more real risk to growth and financial stability this year," said Dariusz Kowalczyk, a senior economist and strategist at Credit Agricole CIB, in an e-mailed reply to questions on the data.
The government will curb demand for housing among investors and regulate the home market "differently in different cities," Premier Li Keqiang said last week. It has also been reining in lending that lend to excessive borrowing and now is sparking defaults. A closely held Chinese real estate developer with 3.5 billion yuan ($566 million) of debt has collapsed and its largest shareholder was detained, government officials familiar with the matter said yesterday.
The Shanghai Stock Exchange Property Index fell 0.9 percent at the close of trading, the only measure declining among the five industry groups on the benchmark Shanghai Composite Index, which rose 0.1 percent.
Tighter Credit
At least 10 Chinese cities stepped up measures to calm local property markets at the end of last year.
Credit growth trailed analysts' estimates in February as aggregate financing was 938.7 billion yuan, the People's Bank of China said March 10, less than the 1.31 trillion yuan median estimate of analysts surveyed by Bloomberg News.
Home prices in the eastern city of Wenzhou led the drop among the 70 cities where prices declined by falling 0.2 percent from a month earlier and 3.9 percent from the same period last year.
Private data also showed cooling signs. Home-price growth slowed for a second month in February by 10.8 percent from a year earlier, according to SouFun Holdings Ltd., the nation's biggest real estate website owner.
Developer Collapse
Zhejiang Xingrun Real Estate Co. doesn't have enough cash to repay creditors that include more than 15 banks, with China Construction Bank Corp. holding more than 1 billion yuan of its debt, according to the officials, who asked not to be named because they weren't authorized to discuss the matter. The company's majority shareholder and his son, its legal representative, have been detained and face charges of illegal fundraising, the officials said.
The collapse of the developer is likely to be negative for sentiment of equity investors, with increasing concerns about liquidity and homebuyers staying on the sidelines to await further cuts in home prices, Barclays Plc property analysts, led by Alvin Wong, wrote in a report yesterday.
"The risks lie mostly with those local developers in third- and fourth-tier cities," said Lan Shen, a Beijing-based economist at Standard Chartered Plc. "These developers have a lot to do with shadow banking, with limited access for financing."
About 80 percent of home sales in China come from non-listed developers, according to estimates by UBS AG.
Negative Sentiment
Zhejiang Xingrun is based in the eastern town of Fenghua. The city of Ningbo has jurisdiction over Fenghua, which is the birthplace of former Chinese nationalist leader Chiang Kai-Shek.
Home prices in Ningbo rose 0.3 percent last month from January and 6.1 percent from a year earlier, today's data showed. That was compared with a 0.5 percent gain in January from December and 7.3 percent from a year earlier.
Home sales fell 5 percent in the first two months of the year from 2013, while new property construction fell 27 percent, the statistics bureau data showed last week.
New home price gains in first-tier cities also slowed from a year earlier. Housing values in Shanghai, Guangzhou and Shenzhen all rose 16 percent, respectively, from a year earlier, the slowest pace since at least August. Prices in Beijing jumped 12 percent, the lowest since May.
Existing-home prices were unchanged in Beijing last month from a month earlier and increased 0.6 percent in Shanghai, according to the data.
"The property cycle is turning downwards and the government has noticed that each city has different supply issues," Yao Wei, China economist at Societe Generale SA in Hong Kong, who is ranked the most accurate forecaster of China's gross domestic product by Bloomberg, said before today's release. "Credit and liquidity are the key factors for the property sector, while easing mortgages is probably the easiest thing to do."
— With assistance by Bonnie Cao
Before it's here, it's on the Bloomberg Terminal.
LEARN MORE