Vietnam to Lower Key Policy Rates to Support Economic Growth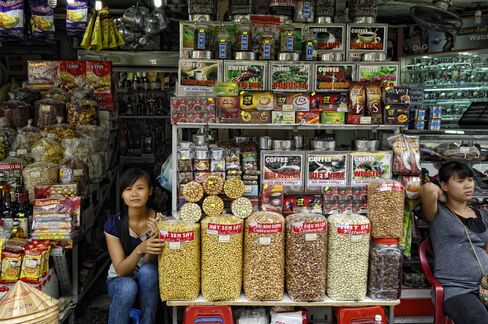 Vietnam will cut its key policy rates from tomorrow, as the government tries to support businesses and bolster a struggling economy. Stocks rose.
The discount rate will be cut to 4.5 percent from 5 percent, and the repurchase rate will be lowered to 5 percent from 5.5 percent, the central bank's monetary policy head Nguyen Thi Hong said at a briefing in Hanoi today. The refinancing rate will be reduced to 6.5 percent from 7 percent.
"The policy-rate cuts aim to deepen the government's support to businesses," Nguyen Dong Tien, State Bank of Vietnam's deputy governor, said at the briefing. "The rate cuts will help boost lending demand and bolster economic growth."
Vietnam's policy makers are trying to support an economy that the World Bank estimates will grow 5.4 percent this year, slower than a government target of 5.8 percent. Prime Minister Nguyen Tan Dung last month asked the central bank to step up measures to lower lending rates, as the highest level of bad debt among Southeast Asia's biggest economies curbed lending and hurt the nation's businesses.
"It is to promote economic growth," said Alan Pham, Ho Chi Minh City-based chief economist at VinaCapital Group, the nation's largest fund manager. "It will enable banks to lower lending rates to stimulate more borrowing for investment. That will help stimulate more economic activity."
VN Index
The benchmark VN Index rose 0.6 percent to close at its highest level since Oct. 26, 2009. It has gained 19 percent this year, the biggest advance in Asia. The dong was little changed at 21,093 against the U.S. dollar at 4:30 p.m. local time.
Vietnam's five-year government bonds rose, sending the yield to a nine-month low. The five-year yield fell 10 basis points, to 7.25 percent, the lowest level since June 6, according to a daily fixing from banks compiled by Bloomberg.
The central bank last cut the refinancing rate in May 2013 and the repurchase rate in July after devaluing the currency to help boost exports. The monetary authority has reduced the refinancing rate by a total 8.5 percentage points since early 2012 to spur credit growth.
The interest-rate cap for dong deposits with maturities of less than six months will be cut to 6 percent from 7 percent from tomorrow, SBV's Hong said today. The rate for deposits in dollars will be lowered to 1 percent from 1.25 percent.
Vietnam's inflation last month eased to 4.65 percent from a year earlier, the slowest pace since November 2009. Exports climbed 12.3 percent in the first two months of the year from the same period in 2013.
Still, the number of business closures rose 12 percent as of end-February from a year earlier, government data showed, while lending dropped 1.05 percent as of March 13 from the end of 2013, Hong said at the briefing. The government targets credit growth of 12 percent to 14 percent this year.
"Domestic demand in Vietnam is very weak," said Trinh Nguyen, Hong Kong-based economist at HSBC Holdings Plc. While the rate cuts are noteworthy, with the "sluggish pace of finance-sector reforms, growth and credit growth will continue to be very lackluster this year."
— With assistance by Nguyen Dieu Tu Uyen
Before it's here, it's on the Bloomberg Terminal.
LEARN MORE