Forget Wine Club. The Times Would Like to Manage Your Money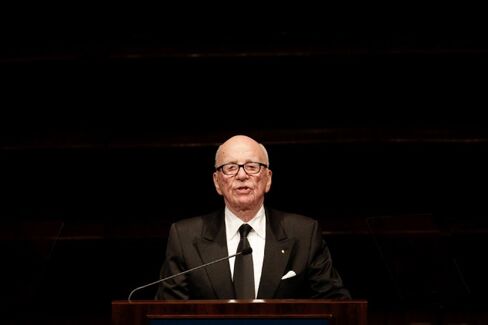 Given the industry's well documented struggles, perhaps you won't be rushing out to invest in a newspaper company anytime soon. Fair enough. But here's a counterproposal. Would you consider letting a newspaper invest your money?
Such a question suddenly arose last week when executives at the Times in London, Rupert Murdoch's upmarket daily, announced that they are getting into a new line of business. Moving forward, they will be offering a range of wealth management services to readers via a partnership with Bestinvest.
"When it comes to money, trust is crucial and The Times and Sunday Times have been the papers of record for the latest money, investment and business news and advice for more than two hundred years," said Neil Martin, an executive with Murdoch's News UK. "Thus the titles are well placed to offer a competitive service that our readers are hugely interested in."
If you squint long enough, the move does make a certain amount of sense. With print advertising drying up fast, newspapers are on the hunt for sources of revenue. For years, newspapers executives have watched from the sidelines as their more festive cousins in the magazine world raked in big sales by licensing their brand names to consumer products and services (see Real Simple split-top storage bench in white, $80; Outside's 10-day Kilts and Kayaks trip to Scotland, $4,995). Why should the lifestyle brands reap all the rewards of renting out their name recognition?
Plenty of newspapers have already begun licensing their brands—wine clubs are popular—and don't be surprised if in the years ahead the ongoing decline in print advertising is accompanied by a rise in slightly desperate-sounding licensing deals involving print brands. As it is, you can already settle in and open a delicious bottle of bordeaux from Telegraph Wine while you work toward your online associate's degree from Forbes School of Business, or watch a little Esquire TV.
The money management angle, though, is a new one, and there's a wrinkle. Investors typically want to have a certain amount of trust in the people who manage their money, and while news organizations consider themselves gatekeepers of the public's interest, in recent years, a phone-hacking scandal has engulfed Murdoch's news operations in London. That hasn't exactly earned him a surplus of confidence with the British public. Which could make the whole "trust us, you're in good hands," thing a bit of a hard sell.
In the end, even if this deal doesn't hit it big for Murdoch's newspaper, he should have plenty of other licensing opportunities to consider in London. It's hard to imagine, for instance, that Murdoch-branded privacy software wouldn't be a top seller.
Before it's here, it's on the Bloomberg Terminal.
LEARN MORE