Rio Olympics Sign Four Sponsors, in Final Talks With 10 Others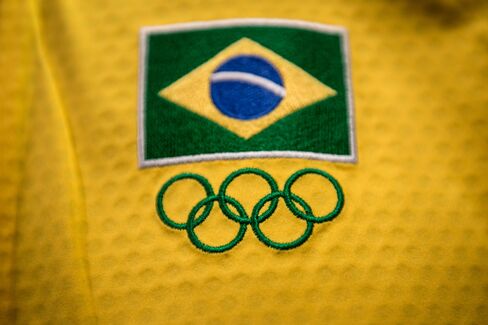 Rio de Janeiro Olympics organizers signed four new sponsorship agreements and are in final negotiations with another 10 companies, the 2016 games' chief commercial officer said.
Rio 2016 will have reached as much as 80 percent of its sponsorship target if the agreements are completed, Renato Ciuchini said. The majority of the deals are a mix of cash and services, or value-in-kind. Organizers have budgeted for 51 percent of the Olympics' 7 billion reais ($3 billion) in operating costs being met through partnerships.
Brazil will be the focus of world sport over the next two years. It's hosting top soccer players including Argentina's Lionel Messi and Cristiano Ronaldo of Portugal at soccer's World Cup in three months, an event that's currently overshadowing Rio's planning to stage the first South American Olympics. Ciuchini says that's stopping many companies from marketing their association with the multisport event.
"We all know, and all the sponsors know, that if Messi gets the flu that's the front page of all the papers," Ciuchini said after Education First signed on as Rio 2016's language training provider last week. "So why do we need to get into this battle, spend money, effort and energy when we know this is not an area the press is focused on right now?"
Ciuchini didn't identify the other actual or potential sponsors, saying an announcement will be made in the coming weeks. He said most partners are planning to go public with their campaign in August, and added that Rio has already reached 91 percent of the amount of sponsorship secured by London 2012, which organizer Sebastian Coe said had the most successful summer Olympic sponsorship program in history. London raised 700 million pounds ($1.16 billion).
IOC Delegation
Ciuchini's comments come days before executives from the International Olympic Committee arrives in Rio to monitor progress. Organizers have on previous visits been criticized about the speed of development, and their ability to explain to Brazilians why they should back the games. Spending on sporting events was among the issues that drew millions to the country's biggest protests in a generation last year.
Sponsors are aware of the public sentiment, Ciuchini said, adding that Olympic partners are likely to embark on a number of corporate social responsibility programs.
"If I tell you demonstrations and protests are not a concern for anybody it's not true: it's a concern for everybody and everybody is worried about that," he said. "We don't have sponsors who are guys that are just buying signs in stadiums and trying to get return on that. We are talking about serious long-term commitment to the country."
Three Tiers
Olympic sponsorship is split into three tiers, with the first being the most costly. Ciuchini said sales of the top and middle expense levels are likely to be complete by August, including the official metals or mining supplier, the company responsible for the medals. He said Rio 2016 is talking with Rio de Janeiro-based Vale SA, the largest iron-ore producer, though there is no guarantee the company will be the medal's supplier.
"They're interested to participate in this thing but the question is the medals, will it make a difference for them?," Ciuchini said. "Yes or no. Maybe there are other companies that the medals will make more of a difference for."
One of the biggest backers of Rio's successful Olympic bid in 2009 was Eike Batista, then the country's richest man. In the past two years he lost $30 billion, and his billionaire status. His demise doesn't hurt the games, according to Ciuchini.
"There was not even one discussion with any of his companies," he said. "They were never a candidate."