Paris Lifts Car Limit Imposed After Pollution Beat Beijing's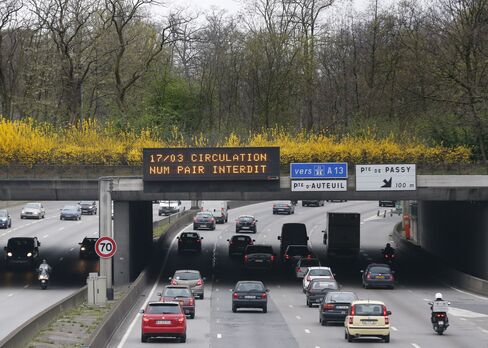 March 17 (Bloomberg) -- The French government said it's lifting a partial ban on vehicle traffic in Paris as pollution levels receded from last week's peak, when air quality in the capital was worse than that in Beijing.
The first partial driving ban in the French capital in 17 years, which halved the number of automobiles circulating in Paris, and the other anti-pollution measures will be lifted as of midnight, Energy and Environment Minister Philippe Martin said a press conference.
"The measures taken, combined with good weather conditions, have led to a clear improvement," he said. "The prime minister has decided not to extend the measures."
The efforts had come after a measure of fine particulates in Paris peaked at noon on March 14 at 110 micrograms per cubic meter, exceeding the level in Beijing, obscuring the Eiffel Tower and sending a hazy dome over the city. The comparable reading at the same time for particulates of 2.5 micrometers or smaller in the Chinese capital was 89, according to Air Quality Index China. It was 172 in Shanghai.
The government imposed a ban on automobiles with license plates ending in even numbers from the roads of the French capital and 22 towns surrounding it. Mass transit and the city's bicycle and car-sharing programs, Velib' and Autolib', were free for more than three days. Speed limits were lowered and suburbs offered free street parking. All the measures will end tonight, the government said.
Free public transportation cost the Paris regional authority 4 million euros ($5.6 million) daily, Jean-Paul Huchon, the president of the Ile de France region, said today. About 2.5 million euros of that was from the Paris bus and metro network. By noon in Paris, 850 police officers had imposed 3,859 fines of 22 euros on drivers who didn't respect the ban.
Congestion Cut
With fewer than half of Parisians owning a car, "the problem stems from commuters entering the city and from deliveries," Anne Hidalgo, Paris's deputy mayor who's a candidate in the mayoral election this month, said on France Inter radio this morning.
The partial ban cut the congestion around Paris at the morning peak hour by 62 percent, according to the transport ministry.
The Paris region's pollution level dropped today, thanks to a slight breeze over the city, the transport ministry said in a statement.
According to the Paris air quality association Airparif, the concentration of particulates of 2.5 micrometers or smaller stood at 54 micrograms per cubic meter at noon today. The World Health Organization recommends exposure of no more than 25 micrograms per cubic meter of particulates a day.
Diesel Motors
Diesel motors produce the fine particulates that pose the greatest risk to health. Hidalgo pledged to "eradicate diesel" vehicles if she's elected, and promote electric cars.
On a regular day in Beijing the concentration of PM2.5 pollutants can break 250 micrograms per cubic meters.
On Feb. 20 it was 318 micrograms per cubic meter at 5 p.m. near Tienanmen Square in Beijing, compared with an average of 165 over in the preceding 24 hours, according to the Beijing Municipal Environmental Monitoring Center.
Air-quality researchers break particulate pollution into categories based on the size of the particles.
Fine particles are those smaller than 2.5 micrometers, or 100 times thinner than human hair. These small particles are generated by automobiles, burning waste or wood and by industries processing metals.
Coarse particles, those larger than 2.5 micrometers but less than 10 micrometers, are a smaller health threat. They stem from smoke from lighter factories or pollen.
The PM2.5 measure today in Vienna stood at 72 micrograms per cubic meter. In London it leveled at 21, after peaking at 72. Madrid pollution reached 63 micrograms per cubic meter.
To contact the reporter on this story: Helene Fouquet in Paris at hfouquet1@bloomberg.net
To contact the editors responsible for this story: Vidya Root at vroot@bloomberg.net Phil Serafino