Obama Says Putin Must Pull Back on Crimea Annexation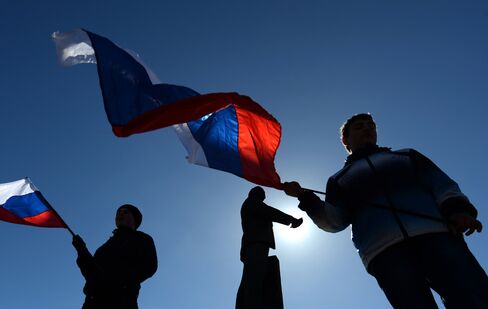 March 17 (Bloomberg) -- President Barack Obama today imposed sanctions on seven top Russian government officials and four others from Ukraine and warned Russia will face more penalties if it doesn't pull back from Crimea.
"Continued Russian military intervention in Ukraine will only deepen Russia's diplomatic isolation and exact a greater toll on the Russian economy," Obama said at the White House. The U.S. can "calibrate our response" based on whether Russia chooses "to escalate or to de-escalate the situation."
The U.S. action, the latest in the most serious confrontation between Russia and the west since the end of the Cold War, were made in concert with the 28-member European Union, which imposed its own set of penalties. The U.S. also included a ban on travel visas.
Obama left the door open for diplomacy, saying Russia must pull its forces back to their bases in Crimea, accept international monitors and open discussions with the government in Kiev.
The U.S. acted after a referendum in Crimea yesterday set in motion the process for the Black Sea Peninsula to leave Ukraine and join Russia. Obama told Russian President Vladimir Putin in a call yesterday that the U.S. would never recognize the vote. Administration officials said there was evidence of fraud including ballots that were pre-marked in some locations.
Russian Officials
The seven Russian officials, which include top aides or advisers to Russian President Vladimir Putin, are Vladislav Surkov, Sergey Glazyev, Leonid Slutsky, Andrei Klishas, Valentina Matviyenko, Dmitry Rogozin, and Yelena Mizulina.
Four other people, allies of the Russian government, were the made targets of U.S. Treasury sanctions under a previous Obama executive order. They are Crimea-based separatist leaders Sergey Aksyonov and Vladimir Konstantinov; former Ukrainian presidential chief of staff Viktor Medvedchuk; and former President of Ukraine Viktor Yanukovych.
White House officials told reporters on a conference call today that sanctions on the four Crimean separatists are aimed at the personal wealth of Russia's supporters. The U.S. isn't ruling out additional sanctions, officials said. The U.S. has the ability to escalate pressure, said one of the officials, who were not authorized to speak on the record beyond the official notice.
"We'll continue to make clear to Russia that further provocations will achieve nothing, except to further isolate Russia and diminish its place in the world," Obama said.
European Meetings
Vice President Joe Biden is leaving tonight for meetings with leaders of Poland, Estonia, Latvia and Lithuania, all members of the North Atlantic Treaty Organization. Obama is set to travel to Europe next week for a previously scheduled nuclear security summit that typically includes Russian officials and for meeting with EU leaders.
The executive order signed by Obama also allows U.S. authorities to target any officials in the Russian government, any individual operating within the arms sector in the country and any individual who owns or controls, acts on behalf of or provides material support to Russian officials.
U.S. officials said the goal was to punish individuals aligned with the Crimea annexation strategy, not necessarily the businesses they oversee.
Russian Support
In the statement, the White House said the Russian leadership derives significant support from, and takes action through, individuals, even though they aren't serving the government in an official capacity.
"Our current focus is to identify these individuals and target their personal assets, but not companies that they may manage on behalf of the Russian state," the White House statement said.
Those sanctioned on the Russian side all played leading roles as ideologists, strategists, architects of referendum strategy and were proponents of annexation of Crimea by Russia, the administration officials said.
The U.S. officials said some of the individuals sanctioned by the U.S. would overlap with those sanctioned by the EU.
While the administration officials characterized the sanctions as the most sweeping against Russia since the Cold War, an administration critic in the U.S. said they didn't go far enough.
Military Assistance
Arizona Senator John McCain said said he was "deeply disappointed that the president did not announce stronger sanctions and a plan for military assistance to Ukraine."
"Those are the kinds of things that Putin would pay attention to," McCain, a Republican member of the Armed Services and Foreign Relations committees, said today in an interview on Bloomberg Television. "I'm not sure what he's going to do right now, but he has everything set up for an invasion of Eastern Ukraine."
The U.S. should act to curb Putin "without any boots on the ground," McCain said, adding that he supported giving military assistance, including "defensive weapons to the Ukrainians now" so that there "will be a price to pay" for further Russian incursions.
White House press secretary Jay Carney declined to directly respond to McCain's remarks. He said additional sanctions may be taken and he didn't rule out any type of aid to the Ukrainian government.
To contact the reporters on this story: Roger Runningen in Washington at rrunningen@bloomberg.net; Margaret Talev in Washington at mtalev@bloomberg.net
To contact the editors responsible for this story: Steven Komarow at skomarow1@bloomberg.net Joe Sobczyk, Laurie Asseo