Don't Name Your New Business After a Will Ferrell Movie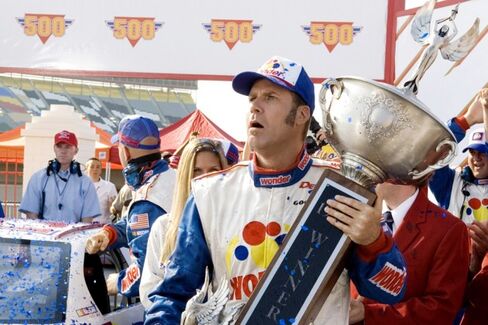 In Fort Worth, there's a race car-themed restaurant called Ricky Bobby. In Austin, Tex., there's a Bettie Page-themed hair salon. And a small East Tennessee coal mining town thinks it might attract tourists if it changes its name to Rocky Top. The problem with all three of these ideas has made itself obvious with recent legal filings: They're all using names or icons that belong to someone else.
About 6,500 trademark or copyright lawsuits are filed in the U.S. every year, according to FTI Consulting. Some of them are between two companies hashing out naming rights, as with the four times the Beatles' Apple Corps sued Apple Inc. over the latter's attempts to get into the music business. But a lot of the time—actually, more often than you might think—the lawsuits are between an established brand and some mom-and-pop place that had no idea it couldn't name itself, say, the International House of Prayer and go by IHOP.
The owners of Bettie Bangs, the Austin hair salon, learned this the hard way. A few weeks after the salon opened in February 2013, the owners received a cease-and-desist letter from CMG Worldwide, an intellectual-property rights management firm that, for the past 35 years, has been protecting the licenses of iconic historical figures and celebrities such as Mark Twain, Malcolm X, and, yes, Bettie Page.
"The way everything's online these days, infringements get called to our attention pretty quickly," says Mark Roesler, chairman and chief executive officer of CMG Worldwide. Roesler says CMG rarely uncovers an infringement itself; a competitor or confused customer usually brings it to the firm's attention. He won't say who snitched on the hair salon, but CMG took issue with Bettie Bangs' name and the numerous Bettie Page photos that had been displayed throughout the store.
"A lot of times people get offended at us and say, 'But we're just a small company, does it really matter?'" says Clare Neuman, a CMG Worldwide attorney and resident Bettie Page expert. "But the way the trademark law's written, we're actually required to send out [cease-and-desist] letters to protect our rights, otherwise we might lose them." When trademarks become common enough, they lose their protected status. Then any old facial tissue could call itself a Kleenex, and nobody wants that.
"We didn't even name it after Bettie Page!" protests Stephanie Marks, one of the salon's owners. The term Bettie bangs refers to the short, mid-forehead bangs popularized in the 1950s by—well, Bettie Page. But these days it's a pretty common hairstyle term, much like the Mohawk or mullet. After receiving CMG's letter, Bettie Bangs took down its Bettie Page pictures but kept its name. Marks and her partners are still negotiating with CMG about a possible Bettie Page license in the future.
Bettie Bangs can argue it unknowingly infringed on Bettie Page's trademark. That's going to be harder for Rick's Cabaret, the parent company of Ricky Bobby Sports Saloon and Restaurant. According a lawsuit filed on March 6 by Sony Pictures, Rick's didn't just borrow its name from the 2006 movie Talladega Nights: The Ballad of Ricky Bobby; it decorated its Nascar-themed sports bar with a full-size replica of the car from Talladega Nights. It serves food and drinks themed after the movie and calls its waitresses "Smokin' Hotties," which is what the character Ricky Bobby calls his wife. Attorneys for Rick's Cabaret declined to comment on the ongoing case, but such blatant similarities don't seem like a coincidence.
The same thing is happening to the town of Lake City, Tenn., which is in the middle of a heated dispute over the rights to one of Tennessee's official state songs. Last year the town voted to change its name to Rocky Top and build a $20 million theme park to draw tourists. In November 2013, the House of Bryant, the Gatlinburg publishing house that owns the rights to the song Rocky Top, contacted Lake City officials. Lake City proceeded with its name change anyway, and so March 10 the House of Bryant sued town officials and the newly created Rocky Top Marketing and Manufacturing. Lake City officials didn't respond to interview requests, but in an article in the local Oak Ridger, Rocky Top Marketing partner Tim Isbel said, "Everything we've done so far has been perfectly legal."
Lake City has yet to respond to the lawsuit, so it's too early to tell what the outcome will be. But if plans for the Rocky Top theme park go through, the town may even benefit from the publicity generated by the legal fight. Lake City plans to open a water park, laser tag arena, theater, candy store, and a train ride it wants to call the Rocky Top Express. Apparently, Chattanooga Choo Choo was already taken.
Before it's here, it's on the Bloomberg Terminal.
LEARN MORE