Factory Output in U.S. Rises Most in Six Months: Economy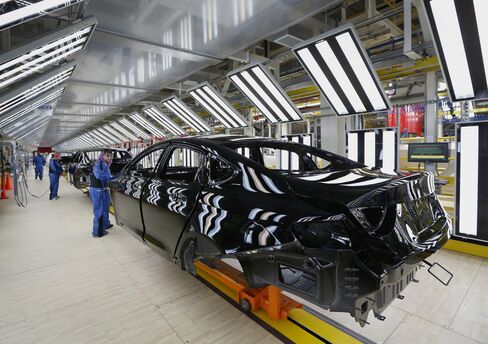 Factory production rose in February by the most in six months, showing manufacturing will help the U.S. economy emerge from a weather-related setback.
The 0.8 percent gain exceeded the highest estimate in a Bloomberg survey and followed a revised 0.9 percent slump in January, figures from the Federal Reserve in Washington showed today. The pickup contrasts with the housing industry, where another report showed builder sentiment rose less than forecast in March.
Assembly lines churned out more cars, business equipment and chemicals a month after snowstorms hampered deliveries of parts and materials. The data point to an expansion that will keep improving as temperatures warm, one reason why Fed policy makers this week will probably stick to their strategy of reducing the pace of monthly bond purchases.
"You had a terrible January and a good February and we're basically where we were in December," said Michael Feroli, chief economist at JPMorgan Chase & Co. in New York and the top forecaster of industrial production over the last two years, according to data compiled by Bloomberg. "It's almost certainly going to be another $10 billion tapering" by the Fed.
Another report today showed factories in the New York region kept expanding in March. The Federal Reserve Bank of New York's general economic index rose to 5.6 this month from 4.5 in February as new orders picked up.
Atlanta-based Newell Rubbermaid Inc. is among companies seeing improved demand from higher-end households.
'Modest Improvement'
"I think we'll continue to see modest improvement in the economy," Michael Polk, president and chief executive officer at Newell Rubbermaid, the maker of Calphalon cookware and Sharpie pens, said at a March 13 conference. "For the high end of consumers there's good recovery, lower-end consumers are having a harder time of things."
DuPont Co., the largest U.S. chemical maker by market value, said this month that first-quarter sales and earnings will be "challenged" by the unusually cold North American winter and disruptions in Ukraine. The Wilmington, Delaware-based company maintained its 2014 forecast for operating earnings, citing an improvement in global industrial production and lower agriculture input costs.
The Standard & Poor's 500 Index rose, rebounding from its worst week since January, as the production data boosted optimism over the economy and investors watched developments in Ukraine. The S&P 500 rose 1 percent to 1,858.83 at the close in New York.
Euro-Area Prices
Elsewhere, euro-area inflation unexpectedly slowed in February, keeping pressure on the European Central Bank to defend the currency bloc against falling prices. Consumer prices rose 0.7 percent from a year earlier, down from 0.8 percent in January, the European Union's statistics office in Luxembourg said today.
While U.S. factories are beginning to rebound from bad weather, the housing industry is finding progress more limited. The National Association of Home Builders/Wells Fargo index of builder confidence rose 1 point to 47 in March, less than forecast. A measure of sales expectations dropped to the lowest level since May.
"A number of factors are raising builder concerns over meeting demand for the spring buying season," David Crowe, the NAHB's chief economist, said in a statement. "These include a shortage of buildable lots and skilled workers, rising materials prices and an extremely low inventory of new homes for sale."
Survey Results
The median factory production forecast in the Bloomberg survey called for a 0.3 percent advance after a previously reported 0.8 percent decrease. Estimates ranged from a 0.2 percent drop to a 0.5 percent increase. Total industrial output, which includes utilities and mines, rose 0.6 percent, more than projected and the biggest gain in three months.
Automakers were among manufacturers rebounding in February. Motor vehicle output rose 4.8 percent after a 5.2 percent drop at the start of the year. Auto assemblies increased in February to an 11.4 million annual pace from 10.6 million rate a month earlier.
Vehicle manufacturers are turning to discounts to help move inventory as dealerships dig out from heavy snow. At Ford Motor Co., February sales fell 6 percent from the same period a year ago. The company had to delay approximately 10,000 fleet orders due to parts disruptions, said John Felice, Ford's vice president of U.S. marketing.
Dealerships that weren't affected by snow reported robust demand, Felice said on a March 3 revenue call.
'Good Shape'
"It has been an interesting start to the year with weather," Felice said. "We feel that as we head into March, we'll be in very good shape."
Dearborn, Michigan-based Ford said it hired almost 6,500 workers in the U.S. last year, including 1,400 new workers at a factory in Flat Rock, Michigan, to boost production of the Fusion sedan.
Factory output excluding vehicles and parts rose 0.5 percent, the most in four months, today's report showed. Production of business equipment jumped 1.3 percent, the biggest increase in a year, after a 0.3 percent gain in January. Output of chemicals surged 0.9 percent in February, matching April as the strongest advance since the end of 2012.
Business Inventories
Faster demand would help companies pare inventories that have been building, in part because winter weather left suppliers holding more unsold goods. A report from the Commerce Department on March 13 showed stockpiles rose 0.4 percent in January after a 0.5 percent gain a month earlier. The inventory-to-sales ratio climbed to 1.32 months in February, the highest level since October 2009.
Mining production and oil drilling rose 0.3 percent in February after a 0.5 percent gain. Utility output eased 0.2 percent after a 3.8 percent surge in January that was the biggest in almost a year and reflected higher home-heating demand.
Today's Fed report also showed that capacity utilization, which measures the portion of a factory that is in use, increased to 78.8 percent in February from 78.5 percent the prior month. Capacity at factories rose to 76.4 percent from 75.9 percent.
Before it's here, it's on the Bloomberg Terminal.
LEARN MORE