Bourbon Rises as Bid Values Company at $2.5 Billion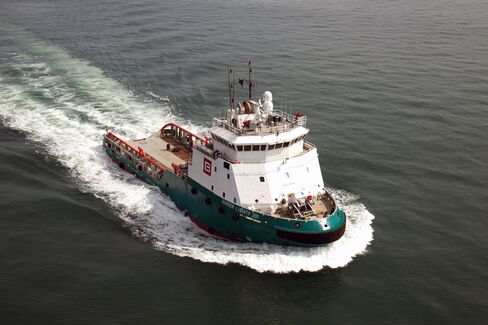 Bourbon SA jumped the most in 15 years in Paris trading after receiving a takeover bid that valued the shipowner at 1.8 billion euros ($2.5 billion).
Bourbon rose 23 percent, the biggest one-day gain since October 1998, to close at 23.845 euros. Trading volumes were more than 20 times the three-month daily average.
Jaccar Holding, controlled by Bourbon Chairman Jacques de Chateauvieux, offered 24 euros a share, according to a statement today. That's a premium of 16 percent to the shipowner's average price in the past 20 trading days, compared with a 29 percent average premium for global oil-services deals announced in the past 12 months, according to data compiled by Bloomberg.
Bourbon's vessels service offshore oil and gas platforms as well as wind farms in 45 countries. Closely held Jaccar, which already holds 26.2 percent of the company, is bidding on the expectation that higher spending in deep-water areas by energy producers and explorers will buoy vessel demand, while mature oil and gas fields will require more investment in maintenance.
Shareholders should accept the offer, according to Geoffroy Stern, an analyst at Kepler Cheuvreux who has a hold rating on Bourbon following the "unexpected" bid. Stern gave it a fair value of 21.70 euros a share, based on the value of its assets, before the offer was announced.
Bourbon's Growth
De Chateauvieux transformed Bourbon, founded in 1948 by plantation owners on the island of Reunion off East Africa, from a rum and sugar company into a shipowner serving oil producers such as Total SA as well as the French navy. Bourbon has spent billions of euros since 2008 to expand its fleet.
Not only does Jaccar already hold a stake in the company, it also has shares in China's Sinopacific Shipbuilding, which built Bourbon's Liberty model vessels at Zheijiang. Vo Thi Huyen Lan, a board member at Luxembourg-based Jaccar, also is a director at Bourbon and Sinopacific.
"The bid is a way to eventually list Jaccar," Bertrand Hodee, an analyst at Raymond James Financial Inc., said by phone after advising investors to accept the offer in a note today. He had a fair value on Bourbon shares of 19 euros apiece and rated them underperform before the bid was announced, in part because of "looming" overcapacity in the deep-water services market.
Approvals Needed
Jaccar's bid is contingent on gaining at least 50.1 percent of the stock, according to the holding company, which intends to keep Bourbon publicly traded after completion. The bid also depends on reaching a financing accord with banks and getting approval from France's market regulator. The board of Paris-based Bourbon will meet March 21 to discuss the offer.
Bourbon, which operates a 485-vessel fleet, reported net income of 115 million euros on sales of 1.3 billion euros last year. The company has been selling and leasing back vessels as a way to reduce debt.
Bourbon said March 5 that a plan unveiled a year ago to sell as much as 30 percent of its supply-vessel fleet for as much as $2.5 billion is "well under way." About $1.65 billion of vessel sales had been agreed on with ICBL Leasing and Standard Chartered Bank and $925 million received, it said.
Bourbon also said "unexpected delivery" of new vessels in the deepwater market combined with project delays and lower utilization rates for floating rigs "could affect prices."