Speculators See Gold Gaining With Wheat on Ukraine: Commodities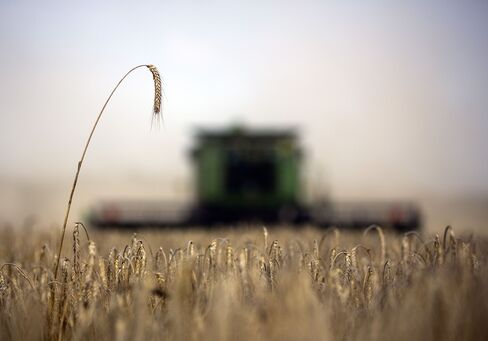 After shunning gold and wheat for most of last year, hedge fund managers are piling back in as the escalating crisis in Ukraine spurs a rebound in the prices of both commodities.
Speculators have the biggest bet on a gold rally since December 2012 and turned bullish on wheat for the first time since November, government data show. Bullion reached a six-month high and wheat last week entered a bull market as Crimea prepared for a referendum. Almost 97 percent of voters in the Black Sea peninsula yesterday backed leaving Ukraine to join Russia, the head of the election commission, Mikhail Malyshev, told reporters. The results exclude one city, Sevastopol.
Global equities erased this year's gains last week as the turmoil in Ukraine escalated and the U.S. and the European Union discussed sanctions against Russia, poised to be this season's fifth-biggest wheat exporter. Investors who rejected gold in 2013 are now buying the metal at the fastest pace since 2007, surprising bearish forecasters including Goldman Sachs Group Inc. Investors also bought more coffee, sugar and corn.
"We have already seen higher prices for gold because of safe-haven bids, and I expect to see more tensions unfolding if sanctions are imposed," said Ryan Larson, the Chicago-based head of U.S. equity trading at RBC Global Asset Management (U.S.) Inc., which oversees $290 billion. "The region is a big supplier of wheat, so any disruption is price supportive."
Gold Rally
Gold futures in New York climbed 3 percent last week to $1,379 an ounce, and wheat jumped 5.1 percent in Chicago. The Standard & Poor's GSCI Spot Index of 24 raw materials fell 1.4 percent, as energy and copper prices retreated. The MSCI All-Country World index of equities dropped 2.4 percent, while the Bloomberg Dollar Index, a gauge against 10 major trading partners, slid 0.3 percent. The Bloomberg Treasury Bond Index gained 0.7 percent.
The net-bullish position in gold rose 4 percent to 123,007 futures and options in the week ended March 11, U.S. Commodity Futures Trading Commission data show. Short holdings fell 20 percent to 21,073, the lowest since October. In wheat, investors had a net-long holding of 10,515 contracts, compared with a net-short bet of 6,040 a week earlier. Gold futures climbed to $1,392.60 on the Comex today, the highest since Sept. 9, before settling 0.4 percent lower at $1,372.90.
This year's 14 percent gold rally came amid signs of weakening U.S. economic growth and Russia's incursion into Ukraine. The Ukrainian government, the European Union and the U.S. all consider yesterday's referendum in Crimea as illegal.
Holdings in exchange-traded funds backed by bullion climbed for three weeks, and hedge funds' bullish bets more than tripled since December, on pace for the biggest quarterly gain since September 2007.
Wheat Shipments
Wheat climbed 11 percent in 2014, off to the best start to a year since 2008. The threat of disrupted supplies from Ukraine is adding to supply concerns amid shipping delays in Argentina and Canada, where a rail backlog may cost farmers C$3.5 billion ($3.15 billion) in lost sales, according to a growers group. Dry weather and cold have threatened winter crops in the U.S., the world's top shipper.
The dispute in Ukraine will probably be resolved by political leaders with a peaceful solution, and the rallies for gold and wheat will fade, according to John Toohey, the San Antonio, Texas-based vice president of equity investments at USAA Investments, which manages about $60 billion of assets in mutual funds.
Biggest Rout
Unprecedented natural-gas reserves in Europe, record world grain output and the threat of mutual economic calamity from oil sanctions are cushioning commodity prices. Wheat prices tumbled 22 percent last year amid ample supplies. Global production will advance 8.6 percent to a record for the season that ends in June, the U.S. Department of Agriculture estimates.
Gold slumped 28 percent in 2013, the biggest rout since 1981 as U.S. equities reached a record and inflation failed to accelerate. Goldman's Jeffrey Currie said this month the chances are increasing that prices will slump to $1,000 for the first time since 2009.
Purchases of coins, jewelry and bars, which helped fuel this year's rally, are starting to slow amid the price gains. The China Gold Association says demand in the nation is poised to drop 17 percent this quarter from a year earlier. The country's economy will probably expand 7.45 percent this year, the slowest since 1990, according to a Bloomberg survey.
"We will see a pullback in gold once the volatile geopolitical situation calms down," Toohey said. "Demand for most commodities will be impacted as China slows down, and we will see repercussions on prices."
ETF Flows
Combined net-wagers across 18 U.S.-traded commodities climbed 5.8 percent to 1.686 million contracts, the most since the data begins in June 2006. Investors added $386.1 million into U.S.-based ETFs tracking commodities in the five days through March 13, data compiled by Bloomberg show. Precious metals saw an inflow of $403 million, while $61.8 million was pulled from energy funds.
Bullish bets on crude oil fell 5.3 percent to 328,095 contracts, snapping seven weeks of gains. West Texas Intermediate slumped 3.6 percent last week, the most since Jan. 3. U.S. crude stockpiles rose for an eighth week to 370 million barrels in the seven days ended March 7, the highest since December, according to the Energy Department.
Speculators increased net-short bets in copper to 10,473 contracts. Prices in New York reached a 44-month low March 12. Chinese factory production expanded 8.6 percent in 2014's first two months, the weakest start to a year since 2009, government data showed last week. The country is the world's biggest metals consumer.
Farm Bets
A measure of speculative positions across 11 agricultural products rose 15 percent to 984,138 contracts, the highest in three years, the CFTC data show. World food costs posted the biggest gain in 19 months in February on concern that cold weather and drought in the U.S. and hot, dry weather in Brazil will harm crops, according to the United Nations' Food & Agriculture Organization.
"It's a mixed bag for commodities," said Jim Russell, who helps oversee $113 billion as a Cincinnati-based senior equity-strategist for U.S. Bank Wealth Management. "While gold and some commodities tied to Russia and Ukraine will remain supported, the economically sensitive commodities will continue to react negatively to the bumpy data out of China."
Before it's here, it's on the Bloomberg Terminal.
LEARN MORE