Asian Stocks Cap First Weekly Loss in Five on China, Yen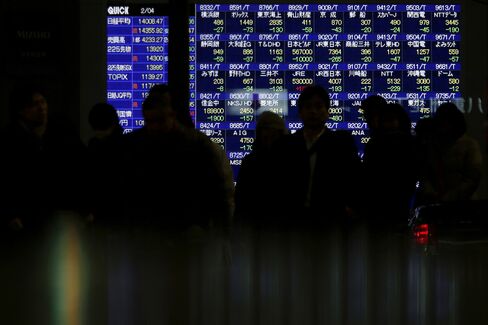 Asian stocks fell, with the benchmark index capping its first weekly loss in five weeks, after Chinese data fueled concern about an economic slowdown and a rise in the yen sent Japanese shares lower.
Jiangxi Copper Co., which earns 92 percent of its revenue from China, dropped 5.8 percent in Hong Kong after prices for the metal slumped on concern mainland demand will weaken. Toyota Motor Corp., a carmaker that generates 75 percent of its revenue abroad, lost 5.7 percent in Tokyo. Malaysian Airline System Bhd. plunged 4 percent after one of the carriers' planes disappeared with 239 people aboard on March 8. New World Development Co. dropped 17 percent after proposing to privatize its China property unit for HK$18.6 billion ($2.4 billion).
The MSCI Asia Pacific Index fell 3.5 percent, its steepest one-week decline in almost two years, to 134.32 this week amid speculation China would miss its 7.5 percent economic growth goal. The yen strengthened against the dollar for five straight days in New York trading, its longest such advance since May, as haven demand rose on China's slowdown and signs the crisis in Ukraine is escalating.
"The market started to pay more attention to negative data points," said Angus Gluskie, managing director at White Funds Management in Sydney who helps oversee about $550 million. China's leaders are "using fiscal and monetary policy to control areas of growth, but investors are being cautious and I think they are getting nervous about what they say."
The Hang Seng China Enterprises Index of mainland companies listed in Hong Kong, also known as the H-share index, dropped 4.2 percent. The gauge is more than 19 percent down from a Dec. 2 high, nearing a so-called bear market. Hong Kong's Hang Seng Index declined 4.9 percent this week, the biggest such decline since May 2012. The Shanghai Composite Index lost 2.6 percent.
China Slowdown
China's factory production increased 8.6 percent in the January-February period from a year earlier, the National Bureau of Statistics said on March 13, compared with the 9.5 percent median projection of analysts surveyed by Bloomberg News. Retail sales advanced 11.8 percent, missing expectations for a 13.5 percent gain in the period.
Aggregate financing in China decreased to 938.7 billion yuan ($153 billion) last month amid a crackdown on shadow lending, a government report this week showed. That compares with January's record 2.58 trillion yuan and is less than the 1.31 trillion yuan median estimate of analysts surveyed by Bloomberg News. Chinese exports slid the most since 2009 last month, a separate report showed.
Japan GDP
Japan's Topix index slid 5.8 percent, its biggest weekly decline since June, while the smaller Nikkei 225 Stock Average lost 6.2 percent. Exporters slid after the yen rose as much as 0.5 percent to 101.36 to the dollar. Toyota dropped 5.7 percent to 5,551 yen. Sony Corp., the maker of PlayStation gaming consoles, lost 4.5 percent to 1,761 yen.
The nation's economy grew an annualized 0.7 percent from the previous quarter, the Cabinet Office said March 10, missing a preliminary estimate of 1 percent and a 0.9 percent median forecast in a Bloomberg News survey of economists. The Bank of Japan announced on March 11 that it would maintain record easing.
South Korea's Kospi Index fell 0.3 percent. Australia's S&P/ASX 200 Index dropped 2.4 percent. Data showed companies boosted full-time payrolls in February by the most in more than 22 years. New Zealand's NZX 50 Index slid 0.9 percent while the nation's central bank raised its key interest rate, the first developed market nation to exit record-low borrowing costs this year.
Ukraine Crisis
Singapore's Straits Times Index declined 2 percent, while Taiwan's Taiex Index fell 0.3 percent.
Shares also fell amid the crisis in Ukraine. The U.S. and Germany stepped up pressure on Russia to back down from plans to annex Crimea from Ukraine after the region holds a referendum, warning they'll exact an economic toll if Russia goes ahead.
Jiangxi Copper dropped 5.8 percent to HK$12.12. China Overseas Land & Investment Ltd. lost 7.9 percent to HK$18.92 after the developer posted underlying profit that missed analyst projections. Profit excluding revaluations, or core profit, increased 20 percent from 2012 to HK$19 billion ($2.5 billion), the company said. That was below an average estimate of HK$19.7 billion from a survey of analysts compiled by Bloomberg.
Malaysian Airline
Malaysian Airline sank 4 percent to 24 sen. India's navy set up a search zone for the missing airliner in the Andaman Sea, hundreds of miles off the course of Flight 370, as evidence mounted that the plane may have flown long after controllers lost contact.
New World Development plunged 16 percent to HK$8.27 after making the privatization offer. Shareholders of New World China Land Ltd. will get HK$6.8 a share, 32 percent more than the last closing price before today, the companies said in a joint statement to the Hong Kong stock exchange today. The stock soared 30 percent to HK$6.63 after New World Development also said it will raise HK$14 billion selling rights shares at a 36 percent discount.
Celltrion Inc. slumped 9 percent to 42,000 won in Seoul after the drugmaker reported 2013 operating profit plunged 49 percent to 99.8 billion won ($93 million) from the previous year.
The MSCI Asia-Pacific gauge ended the week trading at 12.65 times estimated earnings, compared with multiples of 15.66 for the Standard & Poor's 500 Index and 14.04 for the Stoxx Europe 600 Index, according to data compiled by Bloomberg.