Behind Higher Cable Bills: Baseball Teams Doing Simple Math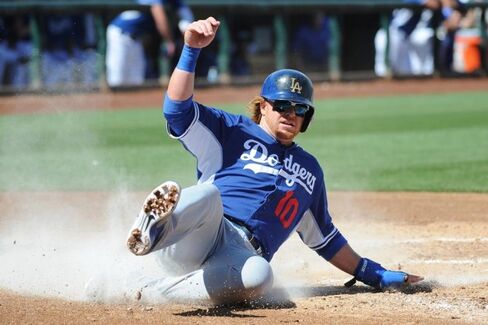 How much should it cost to watch a baseball game? Not from the stands—from the couch, on, say, a Tuesday night in between washing dishes and sending e-mails? And how much should a ballgame cost someone who doesn't watch it all? A cable-TV subscriber who prefers a more error-prone contest such as The Bachelor or American Ninja Warrior?
Those questions are being hotly debated at the moment in Los Angeles now that a new Dodgers broadcast affiliate is trying to set a high price for cable companies who decide to carry its baseball games. The results should be of interest to everyone in the Venn diagram described above, from diehard MLB fans to casual bandwagon watchers and even to cable customers who don't go for any sports.
Here's the state-of-play: The new Dodgers channel, SportsNet LA, is charging cable companies more than $4 per month per subscriber to carry its broadcasts—at least that's the goal. It's the highest ever so-called carriage fee for a cable channel, according to the Wall Street Journal. (For comparison. the YES Network, which carries the New York Yankees, has a monthly charge of $3.20 per subscriber.) Few of the TV providers in the L.A. region have accepted the record rate for the Dodgers channel, aside from Time Warner Cable, which co-owns the channel with the team. If more cable-TV providers decide to add SportsNet LA, however, every household will end up paying the fee even if they never watch an inning.
It's a curious time to put a higher price on America's pastime. TV ratings have been sliding for the past decade, at least on a national level, and baseball audiences are skewing older. While the pull of live sports broadcasts is one of the few viable antidotes to time-shifting viewing through DVRs, audiences for regular season baseball games remain small, only a fraction the size of those for pro football.
But local viewing is a different animal—root, root, root for the home team, right?—and Los Angeles is a premium market for several reasons. It's a big city, and the home team is lavishly staffed at the moment, after barely missing out on the pennant last year. Not surprisingly, the Dodgers boast the best attendance in baseball, selling almost 5,000 seats more for the average game than the second-place St. Louis Cardinals.
But there are plenty of Los Angelenos who couldn't care less. In fact, a bunch of them sued Time Warner over the summer for not giving letting them opt out of packages with expensive Dodgers and Lakers basketball games. A company knows it's hit a nerve when its customers are filing lawsuits rather than just taking their business elsewhere.
The thing is, sports broadcasters—and, indirectly, many a shortstop—have grown rich by strong-arming cable companies into a simple assumption: Few customers will balk at another couple of dollars on a monthly bill, but lots will kick up a fuss if they don't get the ballgames. That cable-TV providers seem to be drawing the line with the Dodgers suggests that they finally believe they may lose more customers by raising prices than by not having the games.
The question executives atDirecTV and major L.A. cable operators are trying to answer isn't how many customers watch the Dodgers—it's how many games those fans watch. We took a stab at answering that, asking a few of the biggest baseball fans we know how many games they watch on TV in an average year. It's an unscientific exercise, but not much more so than cable pricing. Stripping out the maniacs who jump from game to game to catch their fantasy players, we arrived at a number right around 50—roughly eight games a month. In short, some of the most ardent fans we could find are by no means hanging on every game. They're hanging on every third broadcast or so in a 162-game season. They might be miffed if they can't see their home team, but it's debatable that many would swear off TV entirely to make the point.
These are also the folks who'd pay for an a la carte offering, which is what DirecTV is seeking from the Dodgers. If the club was really confident in its fans, it would offer such a package and price it accordingly. But the numbers don't add up. Los Angeles has about 4.84 million cable customers. Assuming one-third of them paid $10 a month for an a la carte Dodgers channel—a generous assumption and a rate akin to the cost of HBO—the new baseball network would still pocket about 18 percent less than if every cable household paid $4 per month.
So a subsidy from baseball haters is far sweeter than a premium from Dodger fans. It's a crummy model, but it's also exactly how sports stadiums get built.
Before it's here, it's on the Bloomberg Terminal.
LEARN MORE