Alibaba IPO Imminence Excites U.S. Investors for Shares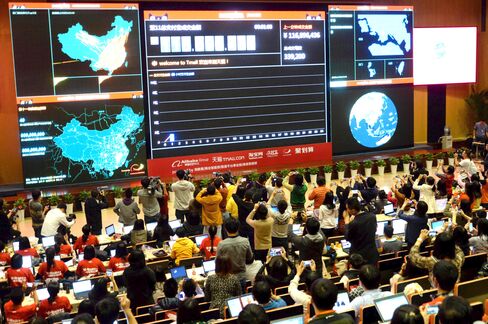 Alibaba Group Holding Ltd., poised for the biggest initial public offering since 2012, could take a definitive step toward that goal by filing to go public in the U.S. as soon as next month, according to people with knowledge of the matter.
Alibaba may disclose its prospectus for an IPO in New York as soon as April, said the people, who asked not to be identified because the process is still private. Alibaba is opting for a U.S. listing as it struggles to persuade Hong Kong regulators to approve a proposed governance structure, the people said.
The online store's market value is estimated at $153 billion, bigger than 95 percent of the Standard & Poor's 500 Index. Ever since Alibaba founder Jack Ma said in 2012 that the company may sell shares within five years, the deal has been once of the most highly anticipated offerings since Facebook Inc.'s $16 billion IPO in May of that year. Investors are salivating for a peek at Alibaba's finances, said Eric Jackson, president of hedge-fund Ironfire Capital LLC.
"There has been enormous investor interest growing in Alibaba for the last two years," said Jackson, whose fund has offices in the U.S., Canada and China. "People are dying to delve into the financial details of the business, which will be contained within the IPO filing, to see just how big Alibaba is and how fast it's growing."
The U.S. IPO filing could come sooner than April, and even after it does Alibaba could still decide to list in Hong Kong should regulators there approve its plan to give executives control over board nominations, one of the people said.
Lost Opportunity
Alibaba may not outline its fundraising target for the IPO for several months after the initial filing, one of the people said. That step, in which the company would set the price range and number of shares it's selling, is typically taken just before a company begins to formally market its IPO.
Florence Shih, a Hong Kong-based spokeswoman for Alibaba, said the company has no timeline for an IPO and hasn't picked banks to manage a sale or a venue. A spokeswoman for Simpson Thacher declined to comment.
A U.S. share sale by Alibaba would be a blow to Hong Kong, which hasn't hosted an IPO of more than $4 billion since October 2010. Alibaba asked Hong Kong's exchange to allow a partnership of executives and shareholders to nominate the majority of board members, a person with knowledge of the matter said in August. That would enable Ma, who owns 7.4 percent, and his management team to maintain control.
'Regulatory Arbitrage'
Hong Kong's bourse doesn't allow share classes with different voting rights, as the U.S. does. Such arrangements helped Facebook founder Marc Zuckerberg and Google co-founders Larry Page and Sergey Brin keep control of their companies after they went public.
Weibo Corp., China's biggest microblogging outlet, filed yesterday to raise $500 in a U.S. IPO. The Beijing-based company joins a slew of Chinese Internet companies looking to list newly issued shares in the U.S. JD.com Inc., the Chinese retailing website that just received an investment from Asia's largest Internet company Tencent Holdings Ltd., filed to raise $1.5 billion in the U.S. Jumei.com, a Chinese e-commerce company that sells cosmetics, is also planning an IPO in the States, people familiar with the matter said last month.
'Regulatory Arbitrage'
Alibaba's U.S. filing may be a way to pressure on Hong Kong's regulators to allow Alibaba to get the structure it seeks, said Erik Gordon, a professor at the University of Michigan's Ross School of Business.
"It's a classic regulatory arbitrage with a hint of blackmail," he said. "You get yourself under the easiest regulatory regime that allows you to access the markets you need, and you implicitly threaten the other markets."
The IPO will allow Sunnyvale, California-based Yahoo! Inc. to begin selling its stake -- which would be worth $37 billion based on the average estimate of Alibaba's value from analysts. Yahoo, which owns 24 percent of Alibaba, rose on the news, gaining 1 percent to $37.60 a share yesterday in New York.
"A lot of people are investing in Yahoo as a proxy for Alibaba -- in fact, I would say the majority of people are," Colin Gillis, a New York-based analyst at BGC Partners, said in a phone interview. He rates Yahoo shares a hold and doesn't own them personally. "We've all been waiting."
Avatar
Alibaba has codenamed the IPO "Avatar," said two of the people. Companies and investment banks use codenames in case documents are inadvertently seen by people not involved on a deal. Reuters reported the IPO's codename yesterday.
The company generated $2.8 billion in net income attributable to ordinary shareholders in the year through September, according to quarterly filings by Yahoo. Revenue in the period was $6.7 billion.
Alibaba is valued at $153 billion according to the average of 10 analysts' estimates compiled by Bloomberg News. That's about 23 times annual sales. Amazon.com Inc.'s $172 billion market value is about 2.3 times 2013 sales, and EBay Inc. fetches about 4.6 times sales with a market value of about $73 billion, according to data compiled by Bloomberg.
The decision to list in New York could benefit Alibaba and U.S. technology investors alike, said Sameet Sinha, an analyst at B. Riley & Co. in San Francisco.
"It gives people another mega-cap stock, a quality name to own," Sinha said in a telephone interview. "If you want your stock to be widely held, the U.S. market is probably the most liquid. This is something that's been baking in the oven for years now."
Before it's here, it's on the Bloomberg Terminal.
LEARN MORE