World Cup Setup Could Have Been Better, Brazil Sports Chief Says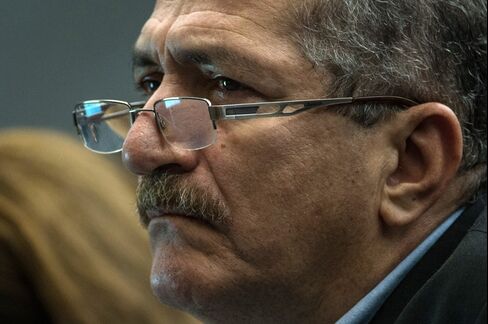 The top Brazilian government official responsible for this year's World Cup soccer tournament says his country could have done everything better to prepare for global sport's most-watched event.
The buildup to the event, the first time the competition has been staged in Brazil since 1950, has been beset by problems including cost overruns and delays at almost every one of the 12 new and refurbished stadiums that will stage matches. Several urban mobility projects that had been promised for the monthlong soccer showpiece either won't be ready in time or were scrapped entirely.
"What we did and are doing reflects the possibilities of hosting a Cup in a country with the conditions of Brazil," Sports Minister Aldo Rebelo told reporters yesterday in Brasilia. "These are the historic conditions of every country. We'll do it within our possibilities."
Brazil is spending about $11 billion on the World Cup. The costs of the tournament have led to criticism and protests. Brazil's biggest demonstrations in a generation coincided with the Confederations Cup, a World Cup warmup event last June. Police used rubber bullets and tear gas to quell crowds amid chants that called for funding of schools and hospitals instead of the new soccer arenas.
A poll released late last month showed Brazilians' appetite for hosting the June 12-July 13 tournament has reached its lowest point since it was awarded staging rights seven years ago. Asked what could have been done to prepare Brazil better for the World Cup, Rebelo answered "everything."
Support Plummets
Datafolha, a Sao Paulo-based polling group, said 52 percent of Brazilians are in favor of hosting the event. That's down from 79 percent support in the same poll in 2008. Earlier this week Sepp Blatter, the president of soccer's world governing body FIFA, said neither he nor Brazilian President Dilma Rousseff will be making a speech before the first game on June
12. Both were jeered before the Confederations Cup opener in Brasilia on June 15.
"What exists is a campaign against the World Cup by desperate sectors in the media," Rebelo said. "But it won't be enough."
Despite the setbacks, Rousseff promised the "Cup of Cups" in a soccer-mad country that has won more World Cups than any other. Brazil is going for a record-extending sixth World Cup title. Rebelo believes Brazil's soccer pedigree is enough to overcome the negativity surrounding the buildup to the event.
"We participated in 19 cups, won five, we've given and continue to give great soccer stars to the world. What more do you want from Brazil?" he asked.
For many including Rai, who captained Brazil in its first match of the 1994 World Cup, a competition that it ended up winning, good performances on the field aren't enough.
"I think Brazil could have used it better," Rai, co-founder of Sao Paulo-based marketing company Rai+Velasco, said in a recent interview. "Lots of money has been wasted because of planning. We knew seven years ago, and I think every Brazilian knows it could have been better."
Before it's here, it's on the Bloomberg Terminal.
LEARN MORE