VW Sees 10 Million Deliveries in 2014 on 100-Model Push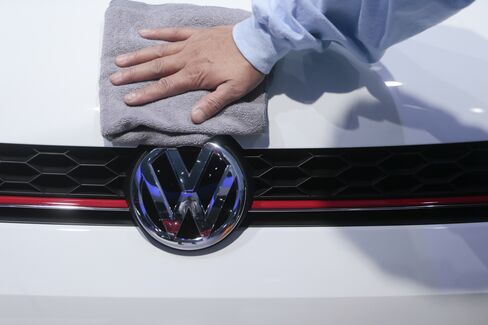 Volkswagen AG may sell more than 10 million vehicles in 2014, four years earlier than planned, as Europe's largest carmaker accelerates model introductions in a strategy to overtake Toyota Motor Corp. as the industry leader.
"With rising volume and new models, we will increasingly see positive earnings effects as well," Chief Executive Officer Martin Winterkorn said today at a press conference in Berlin. "The chances are good that we'll even exceed the mark of 10 million deliveries this year."
Volkswagen posted 9.73 million deliveries in 2013 as a boost in Chinese demand helped the Wolfsburg, Germany-based company surpass sales at General Motors Co. to become the world's second-biggest carmaker. Volkswagen, whose businesses include the Audi and Porsche premium marques and Seat and Skoda mass-market nameplates, said today that it will introduce more than 100 models through 2015.
The German company has "a very successful strategy of positioning different brands in the market," Klaus Paur, head of the automotive department at market-research company Ipsos, said in an e-mail. "They are really covering the different consumer needs, and you have to keep in mind that we are living in a world where the consumer needs are really diversified."
Stock Jumps
Volkswagen jumped as much as 4.5 percent, the biggest intraday gain since Oct. 30, and was trading up 1.5 percent at 183.15 euros as of 3:36 p.m. in Frankfurt. That pared the stock's decline this year to 10 percent, valuing the manufacturer at 83.9 billion euros ($117 billion).
The sales-growth target compares with a plan by Munich-based Bayerische Motoren Werke AG, the world's biggest maker of luxury vehicles, to boost group deliveries 2 percent to a record 2 million cars and sport-utility vehicles in 2014. BMW's fourth-quarter earnings before interest and taxes rose 4.2 percent to 1.95 billion euros, counter to analyst estimates that profit would fall, as the 3-Series sedan and wagon attracted buyers. Audi ranks second globally to the BMW brand in luxury-vehicle sales.
Ebit at Volkswagen rose 1.5 percent in 2013 to 11.7 billion euros. The carmaker is forecasting 2014 operating profit at 5.5 percent to 6.5 percent of revenue, compared to 5.9 percent last year, with sales to "move within a range" of 3 percent.
Currency Moves
Foreign-exchange effects cut revenue last year by 4.6 billion euros, and currencies including the Brazilian real and Russian ruble will pose further "headwinds" in 2014, Chief Financial Officer Hans Dieter Poetsch said today.
First-quarter earnings development is "rather weak," burdened in part by currencies, Poetsch said. Even though VW is "highly hedged" against foreign-exchange shifts, some valuation moves are too expensive to protect against, and the exposure this year is "significantly more" than 1 billion euros, he said.
Volkswagen edged out Detroit-based GM in Chinese vehicle sales for the first time in nine years in 2013. That market, the biggest for both the German manufacturer and the global auto industry, will remain the growth engine for worldwide car demand, Winterkorn said. The dividend from VW's operations in China, where it builds cars in joint ventures, totaled 2.7 billion euros last year, Poetsch said, adding that he'd be "disappointed" if the figure declined in 2014.
The company is also taking steps to boost U.S. sales at the main VW brand, which has lagged behind competitors' growth in that market. U.S. operations "clearly" broke even in 2013, and the business is "fully on course" to reach a 1 million-delivery target in 2018, Poetsch told journalists.
Investment Budget
VW outlined plans in November for 84.2 billion euros in investments through 2018 to pursue the goal of taking the No. 1 global sales spot by then from Toyota. Winterkorn initiated the strategy in 2007, when group sales amounted to 6.19 million vehicles. Since then, Volkswagen, which also makes vans and owns high-end carmakers Bentley and Lamborghini, has acquired Porsche and taken control of heavy-truck producers MAN SE and Scania AB. Further acquisitions are "not on the agenda," Winterkorn said today.
Models that Volkswagen is bringing out through 2015 include new versions of the mid-sized VW Passat sedan and Audi's A4 line-up, the manufacturer said today. New SUVs will include Audi's Q7, Porsche's Macan compact and a plug-in hybrid version of Porsche's Cayenne.
Earnings will rise as more of Volkswagen's manufacturing adopts modular technology, Winterkorn said. The company "has everything it needs to reach its ambitious targets," he said. Cost savings totaling 1 billion euros will be achieved in the mid-term following the full integration of Porsche's carmaking business into the company, he said. Volkswagen gained full control of Porsche in 2012.
Pretax profit was 6.3 percent of sales in 2013, a figure that will reach 8 percent "by 2018 at the latest," Winterkorn said. That margin will be "sustainable," Poetsch said.