New World Development to Take Unit Private for $2.4 Billion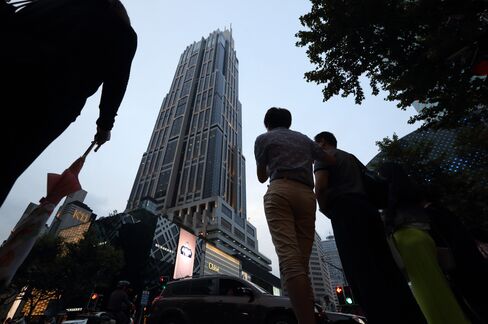 Billionaire Cheng Yu-tung's New World Development Ltd. offered HK$18.6 billion ($2.4 billion) to take its China property unit private after shares in the arm traded below net asset value for more than six years.
Shareholders of New World China Land Ltd. will get HK$6.8 a share, 32 percent more than the last closing price before today, the companies said in a joint statement to the Hong Kong stock exchange today. The unit's shares surged while New World Development plunged the most since October 2011 after the company also said it will raise HK$14 billion selling rights shares at a 36 percent discount.
"It makes sense strategically," wrote Bank of America Merrill Lynch analyst Matthew Chow in a report today. "New World Group does not need two separate platforms for doing property in Hong Kong and China. The privatization would allow New World China to utilize its parent's bigger balance sheet as China property development is still capex intensive if it wants to expand."
New World China rose 29 percent to HK$6.63 at close of trading in Hong Kong, gaining most since its debut in 1999. Its parent fell 14 percent to HK$8.27, the most since Oct. 18, 2011. The shares had been suspended since March 11.
New World, with businesses in property, infrastructure, hotels and retail, fell the most on Hang Seng Property Index, which tracks the nine-biggest Hong Kong-listed builders.
Withdrawing Shares
New World China's shares "have habitually been traded at a discount to their attributable net asset value," the companies said. The offer provides an opportunity to its shareholders "to receive cash at a price significantly above the prevailing market price," they said.
The property unit said it will apply to withdraw its listing on the Hong Kong stock exchange. The offer value of HK$18.6 billion is based on the assumption that all New World China options are vested and exercised in full.
New World China, which focuses on property developments in 22 Chinese cities including Beijing and Shanghai, entered the mainland market in early 1980s and went public in Hong Kong in 1999, according to its website.
"Rather than have two middle-weight entities in their respective fields that are not as widely followed as they would like, a larger combined entity would give the company more operational flexibility and larger market cap to warrant greater investor attention," Robert Fong, a Hong Kong-based property analyst at Bloomberg Industries, said.
Rights Issue
Separately, New World Development said it plans to issue as many as 2.26 billion rights shares at HK$6.20 each. The issue is based on one right share for every three shares, according to the statement.
The proceeds would be used to take the unit private, New World Development Chairman Henry Cheng said in a Cable TV report today.
The company had said in the statement that it would use the proceeds to finance development projects and land bank expansion. Cheng said that was if the plan to take the unit private failed.
The market "did not have a very good memory" last time when New World did a rights issue in 2011, which diluted the book value per share, according to Merrill Lynch's Chow.
Profit excluding property revaluations at rose 3 percent to HK$4.21 billion for the six months ended Dec. 31 from a year earlier, the company said on Feb. 26.
Henry Cheng became chairman after the elder Cheng, 88, in 2012 retired as chairman of the developer he helped found four decades ago and also from Chow Tai Fook Jewellery Group Ltd., the world's largest listed jewelry chain. The senior Cheng is 36th on the Bloomberg Billionaires Index with a net worth of $20.4 billion.
HSBC Holdings Plc and Quam Capital are the financial advisers on the deal.
— With assistance by Fion Li, and Bonnie Cao
Before it's here, it's on the Bloomberg Terminal.
LEARN MORE