Venezuela Protests Drive Poor to Maduro as Death Toll Mounts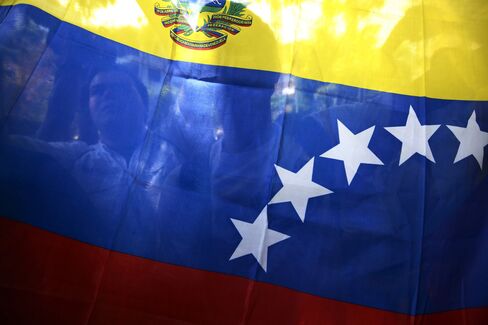 For bus driver Jorge Polo, the protests in Venezuela's capital city are an irritation, not an attraction.
Every day, Polo has to navigate around the protesters' makeshift barricades in the wealthy parts of Caracas. He is never tempted to join them and blames hoarders -- and the demonstrators themselves -- for the soaring cost of living and mounting shortages.
"What's going on down there in the valley is not our fight," Polo said, while drinking a beer in the slum of Petare overlooking eastern Caracas. "It's rich people trying to get back lost economic perks. The slums won't join them."
After a month of protests, the demonstrations in Caracas remain confined to wealthier areas with limited support from the poor. Many residents of Petare say President Nicolas Maduro should be given more time to turn around the economy after taking over following the death of Hugo Chavez a year ago. For now, the protesters are only making life harder, Polo says.
Annual inflation has more than doubled to 56.3 percent since Maduro came to power in April, while economic growth slowed to an estimated 1.4 percent in the fourth quarter from 5.5 percent a year earlier, according to analysts surveyed by Bloomberg.
The opposition blames the government for its lack of support in the slums. The poor are prevented from joining demonstrations by pro-government armed groups, known as collectives, said Maria Corina Machado, a congresswoman and protest leader.
Burning Barricades
Public prosecutor Luisa Ortega said that the death toll from the protests had risen to 28 today. Maduro called the protesters "fascists" who are staging "a slow motion coup."
Opposition parties and students have held daily marches across the country since early February to protest mounting shortages, inflation and rampant crime. Smaller groups remain in the streets after dusk, barricading highways with burning debris and garbage and skirmishing with police.
Security forces broke up a march yesterday using tear-gas and water cannons after Maduro vowed not to let more protests into the center of the city until the opposition agreed to talks. Later, the Union of South American States, Unasur, said they would send a delegation to Venezuela to promote dialogue.
Protest leader Machado called Unasur's offer "a disgrace" that ignores the violent suppression of demonstrators in a statement today.
Rationing
As the protests continue, shortages have worsened and the government has started rationing food at state-owned, subsidized supermarkets.
Consumers can only shop once a week at the same store in a system regulated by their identity cards. When stores are opened to everyone, people line up for hours outside to find nothing on the shelves.
The disruption caused by the protests gives Maduro a scapegoat for the economic problems, said Eric Olson, associate director for Latin America at the Woodrow Wilson International Center.
"Maduro's narrative that scarcity is the fault of a greedy economic class remains persuasive in the eyes of many Venezuelans," Olson said by phone from Washington. "People are more inclined to believe conspiracy theories of price gouging than the intricacies of underlining economic policies."
'Economic War'
Trade Minister Dante Rivas said March 7 that barricades have reduced the supply of basic goods by 60 percent. Destruction of several food trucks on the blockaded streets is part of the opposition's "economic war" fought with the help of foreign powers and businessmen, he said in a press release.
In Petare, many people believe Rivas. On the afternoon of March 6, residents of the hillside slum were chatting outside corner shops while deadly street battles raged in the bordering middle-class neighborhood of California.
"Inflation is sky-high and you can't get any materials anymore," Juan Gutierrez, 55, said in his workshop full of half-finished refrigerators, rusting away in the absence of dollars for imported parts. "This is a forced inflation induced by the economic war. The right-wing is not giving Maduro any chance to implement his policies."
The protests are bringing the poor together in defense of the "revolution," Gutierrez said.
"If the poor start streaming down from the slums, it will be a bloodbath," he said. "This is what the right-wing wants, to justify foreign intervention."
Opposition Plan
Without support in areas like Petare, the protests are unlikely to work, said Steve Ellner, a professor of political science at the University of the East in Puerto La Cruz, Venezuela.
"For this kind of thing to spread, you need more than discontented elements, you need broad social mobilization," Ellner said.
The opposition remains optimistic the protests will expand as economic hardships worsen.
"The plan is to work more closely with labor unions, industry associations, social movements to give a united voice to the dissatisfaction with this government," Gaby Arellano, leader of the Andes University student union, said by telephone from Caracas on March 11.
'Rich Kids'
Saverio Vivas, an opposition activist in the working-class Catia district of Caracas, says the protests haven't spread to his streets because opposition leaders are out of touch with the poor.
"Media censorship means people here only know the government version that spoiled rich kids are burning down wealthy parts of Caracas to foment a coup," Vivas, a member of the Justice First party, said by telephone March 11.
Some residents of slums say they prefer to protest in wealthier areas to avoid confrontations with the collectives.
"We can't protest at home because they send government supporters, thugs disguised as police, to mess with our family," Arnaldo Imbett, a father of six, said at a barricade in the upscale Altamira district.
Protests have had broader support in western provinces, where shortages are worsened by proximity to Colombia. Price controls implemented by Chavez make basic products as much as 10 times cheaper in Venezuela than Colombia, creating a contraband industry that leaves store shelves empty.
Border Regions
Protests in cities such as San Cristobal and Merida will keep the political pressure on Maduro after Caracas protests wither, said Diego Moya-Ocampos, a London-based political risk analyst at the consultancy IHS Global Insight.
The government's survival will ultimately depend on their success in improving the economy, said Ellner, author of the "Rethinking Venezuelan Politics" book.
"If they can't turn around the economic situation, they won't be around for too long, regardless of opposition tactics," he said by telephone March 7.
To put basic foods staples back on the shelves, the government needs to take unpopular steps such as raising the price of regulated products, reducing gasoline subsidies and devaluing the bolivar, said Moya-Ocampos. The risk of igniting protests in the slums makes these measures unlikely now, he said.
Bank of America Corp., Citigroup Inc. and Goldman Sachs Group all forecast that Venezuela's economy will contract this year.
Exchange System
The government announced a new currency system March 11, known as Sicad 2. The central bank said it will not set prices and will intervene to combat only "erratic FX fluctuations." Since then, the country's bonds have returned 11.5 percent, the biggest return in the Bloomberg USD Emerging Market Sovereign Bond Index.
The dollar is likely to trade at 25 to 40 bolivars on the new system, according to Bank of America economist Francisco Rodriguez, compared with 6.3 for essential imports such as medicines. The devaluation would push prices higher still, according to Rodriguez.
"If Maduro's ideas don't work out, fine, let's change him in the next elections," said Polo. "But these protests are really beginning to hurt working people like us, making the people more forgiving of the government's failures."
Before it's here, it's on the Bloomberg Terminal.
LEARN MORE