Facebook's Stock Rally Takes Wall Street by Surprise
Analysts fail to keep pace with the social network's surging shares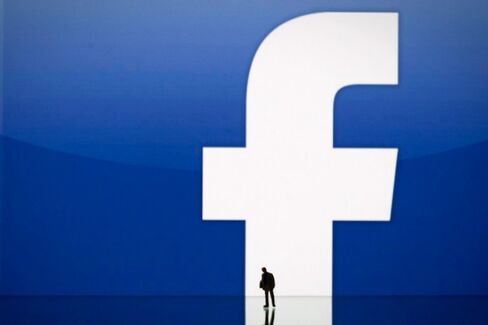 Wall Street analysts are racing to catch up with Facebook's stock rally. Shares of the world's biggest social network have jumped 28 percent so far this year through March 11, compared with a 1 percent gain for the Standard & Poor's 500-stock index. The upward move has put the 49 analysts who cover Facebook in a bind: While 38 recommend the company with the equivalent of a buy rating, 16 of them have share-price targets below where Facebook is trading, according to data compiled by Bloomberg.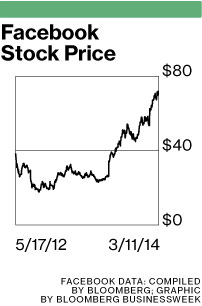 Analysts' average 12-month price target for Facebook is $72.92, less than 1 percent above the company's March 11 closing price of $70.10. With the stock advancing more rapidly than anticipated, the targets—many of which have been calculated since the start of the year—look out-of-date. "Facebook stock has just ripped past expectations," says Richard Greenfield, an analyst at BTIG in New York, who in October recommended buying the shares with a $68 target over the next 12 months. At the time, Facebook was selling for $49. "We're very happy with our rating upgrade to buy, but it has all happened superfast," he says. He hasn't changed his price target.
With a market value of $180 billion, Facebook trades at 122 times the past four quarters' earnings, making it more expensive than 98 percent of companies in the S&P 500, according to data compiled by Bloomberg. The stock has traded above the average analyst price target several times in the past year, including most of the month of September. Tucker Bounds, a spokesman at Facebook, declined to comment.
The company's prospects have improved since its shares' rocky debut in May 2012. Chief Executive Officer Mark Zuckerberg weathered a 50 percent drop in the stock price in the months after the initial public offering at $38, as investors questioned whether Facebook could come up with a strategy to make money from users who increasingly accessed the social network from smartphones and tablets.
Since then, Facebook has pushed into mobile advertising. In January it reported quarterly results that beat estimates, with more than half of ad revenue coming from mobile devices. Last month, Facebook agreed to purchase WhatsApp for as much as $19 billion in cash and stock, betting that the mobile-messaging startup's large international user base will accelerate growth.
Analysts almost unanimously support the stock. It gets a 4.6 out of 5 recommendation consensus—which measures how strongly analysts agree—putting it in about the top 5 percent of the S&P 500, according to data compiled by Bloomberg. Only nine analysts rate it a hold. None rates it a sell.
Eric Sheridan, an analyst at UBS, on March 10 raised his 12-month goal for the social network to $90—the highest forecast among those who cover the stock—from $72 in January. Last April his price goal was $26. "We continue to favor Facebook as a core large-cap Internet holding for excellent revenue growth," Sheridan wrote in a note to investors, adding that Facebook could reach $112 if it beats revenue estimates and advertisers gravitate to new products. Also, on March 10, Tom Forte, an analyst at Telsey Advisory Group, increased his target for Facebook from $70 to $82. On March 11, Mark May, an analyst at Citigroup, raised his target from $70 to $85.
For some analysts, the stock's rise alone isn't enough to justify a higher price target. "We conduct field checks and surveys throughout the quarter to assess business trends," Colin Sebastian, an analyst at Robert W. Baird who has a buy rating on the stock and last changed his price target in January from $54 to $65, wrote in an e-mail. "You need to have a reason to adjust valuations beyond just because the stock has moved," he says.
Before it's here, it's on the Bloomberg Terminal.
LEARN MORE