KKR Said to Seek Up to $4.9 Billion for European Buyouts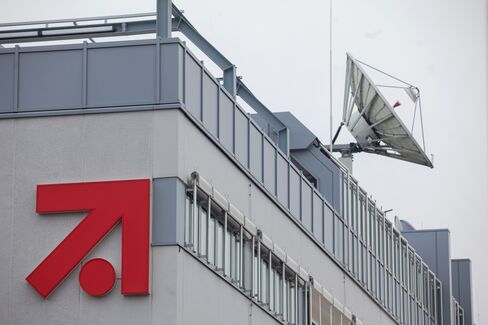 March 12 (Bloomberg) -- KKR & Co. LP, the private-equity firm led by Henry Kravis and George Roberts, is seeking as much as 3.5 billion euros ($4.9 billion) to invest mostly in Europe, according to two people familiar with the situation.
KKR's fourth European fund, which is trying to raise at least 3 billion euros, is expected to be smaller than the $6.1 billion gathered by the prior pool in 2008, said the people, who asked not to be identified because the information is private.
The firm's Europe team, led by Johannes Huth, 53, joins some private-equity peers in raising smaller funds as clients concentrate commitments in a fewer number of managers. Carlyle Group LP is seeking 3 billion euros for its fourth Europe-focused fund, less than the 5.3 billion euros gathered by the prior fund. London-based Bridgepoint expects to target a smaller fund than the 4.8 billion euros gathered by the prior vehicle in 2008, two people briefed on the plans said this month.
Kristi Huller, a spokeswoman for New York-based KKR, said the firm couldn't comment on fundraising.
In marketing the fund, the firm can point to its recent exit of ProSiebenSat.1 Media AG. In January, KKR and London-based Permira Advisers LLP sold a 17 percent stake in the German broadcaster for about 1.26 billion euros.
KKR European Fund III LP had $1.7 billion of capital left to invest as of Dec. 31, according to the firm's latest annual report, and was producing a 7.8 percent net internal rate of return. The fund in August bought a 27 percent stake in Houston-based RigNet Inc., which makes communication products for oil and gas drilling operations. Financial terms weren't disclosed.
KKR last year planned to return half of the uninvested capital from a $535.8 million pool raised during the financial crisis to support its $5.75 billion second fund for European leveraged buyouts, two people familiar with the matter said at the time. The firm sought extra capital in 2009 to support at least six companies in the second fund after the crisis made it difficult for buyout firms to sell investments. That fund was producing a 5 percent net IRR as of Dec. 31, according to the filing.
To contact the reporters on this story: Sabrina Willmer in New York at swillmer2@bloomberg.net; Devin Banerjee in New York at dbanerjee2@bloomberg.net
To contact the editors responsible for this story: Christian Baumgaertel at cbaumgaertel@bloomberg.net Josh Friedman