Gaza's Islamic Jihad Reports Egypt-Brokered Truce With Israel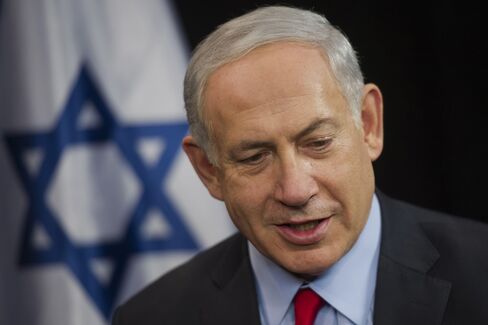 Egypt mediated a truce ending two days of clashes between Gaza Strip militants and Israel's military, a militant leader said. There was no immediate confirmation from Israel or Egypt.
Khaled el-Batch, a senior leader of the Islamic Jihad militant group, said in a statement today that Egypt brokered a restoration of the cease-fire that ended Israel's November 2012 offensive in the Palestinian territory. Asked to comment on the truce report, Israeli government spokesman Mark Regev said he had nothing to add beyond Israeli Prime Minister Benjamin Netanyahu's comments earlier in the day.
The Israeli leader had warned that his military would strike with "great force" against any attack.
"I want to make clear that if anyone tries to spoil our Purim holiday, we will strike back forcefully," Netanyahu said in comments sent by text message. Israel celebrates Purim, a festival marking the salvation of the Jews, on March 16 and 17.
Egyptian officials weren't immediately available for comment.
The Iranian-backed Islamic Jihad, backed by smaller militant groups, began firing dozens of rockets into southern Israel late yesterday, after Israel killed three of its fighters, saying they fired a mortar at Israeli forces. Israel hit back with three dozen air strikes and volleys of artillery fire. One serious injury was reported in Gaza and none in Israel. The Israeli military said about 70 rockets were fired.
Tensions between Israel and Hamas-ruled Gaza had already heightened last week after Israel's navy seized a ship it said carried dozens of rockets and mortars and 400,000 rounds of ammunition from Iran.
Proxy War
"This is part of the ongoing clandestine war between Iran and Israel," Jonathan Spyer, a political scientist at the Interdisciplinary Center Herzliya, said by phone. "The ship was apprehended, the activists were killed, the balance was disturbed and the Iranians want to show they can hit back."
The rocket fire at Israel was the most sustained since Israel's November 2012 offensive in Gaza, meant to quell rocket and mortar fire.
The shekel strengthened 0.1 percent to 3.4612 shekels to the dollar, the yield on the benchmark bond was unchanged at 3.19 percent and the TA-25 was up 0.3 percent to 1,372.99 at 3:22 p.m. in Tel Aviv.
Netanyahu criticized Palestinian Prime Minister Mahmoud Abbas, who governs the West Bank, for condemning Israel's strikes on Gaza instead of denouncing the rocket fire. Abbas later issued a denunciation. The two sides have been trading jabs as the U.S. presses them to approve guidelines for talks on a final accord ahead of an April 29 deadline.
Recurrent Fighting
"The ball is in the Israeli court," said Mkhaimar Abusada, a political scientist at the Gaza-based al-Azhar University. "It all depends on whether Israel wants to escalate or just go for a tit-for-tat war as usual with Gaza militants."
Foreign Minister Avigdor Liberman said late yesterday that Israel should reassert military control over Gaza, which Israel evacuated in 2005 after a 38-year occupation.
Hamas has controlled the territory since it seized it in 2007 following a week of fighting with forces loyal to Abbas' Palestinian Authority. Both Hamas and Islamic Jihad are considered terrorist organizations by the U.S., European Union and Israel.