Chinese Cadres Told Going Green Rivals GDP to Rise in Party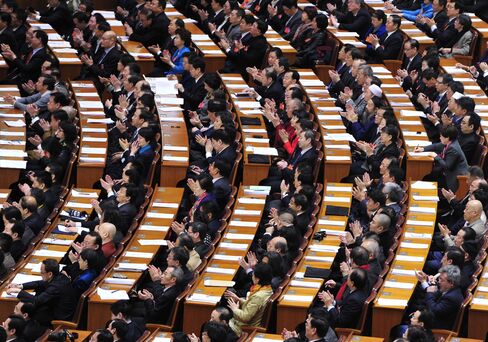 March 13 (Bloomberg) -- Chinese cadres at the first legislative meeting with Xi Jinping as President are grappling with new performance metrics that will determine how they get ahead in the Communist Party.
For decades, the solution for local officials was to promote economic growth rates that exceeded national targets, and to bring in revenue as land was sold to developers. Now, aspiring leaders are being judged on an array of issues including how they tackle the environment and improve people's lives.
Eastern Shandong province is adding air quality to the criteria used to evaluate party cadres this year, and northwestern Gansu province is revising its assessment system to reduce the focus on economic expansion. The changes under Xi are designed to ensure social stability isn't threatened by surging criticism of smog-choked cities that are a byproduct of China's ascent to become the world's second-largest economy.
"Most important is the environment," said Hou Liang, the mayor of Zhangjiakou, a city in Hebei province regularly shrouded in haze, as he came out of one regional session of the National People's Congress this month in Beijing. "We no longer rely on gross domestic product as in the past -- yet dealing with the environment is much tougher."
Conflicting Goals
Without an electoral mandate, the Communist Party for decades showcased growth that pulled millions out of poverty and provided jobs for a swelling urban population as a source of legitimacy. Seeking to meet middle-class demands for better quality of life, while retaining a national target for growth at 7.5 percent as announced by Premier Li Keqiang last week, risks sowing confusion in the party about its message.
"They seem to be in a bit of a conflict," UBS AG chief China economist Wang Tao said in an interview. "How will this play out? What is more important to defend: the growth target or the environment?"
Almost 3,000 delegates gathered in the Great Hall of the People over the past week to tout their achievements of the previous 12 months and get their marching orders for the next. Accustomed to coming armed with reams of statistics showing rapid local economic growth, they must now set out how they are dealing with a diverse set of criteria.
'Protecting Nature'
China cares more about jobs and livelihoods than the GDP target, which is flexible, Li said today at a press briefing to mark the end of the NPC in Beijing. China's economy has tremendous potential and resilience, and the country needs to strike a balance between its many goals, the premier said.
"There is a target for economic development and for improving people's livelihood and for social stability," Shen Jinqiang, the deputy head of the standing committee of the Chongqing National People's Congress delegation, said in an interview. "Before they just paid attention to economic development. Now you need to protect the environment. You need to do a good job protecting nature."
Chongqing, China's most populous municipality, saw GDP rise 16.4 percent in 2011 before the ouster of party secretary Bo Xilai on graft charges the following year. Bo had been tipped to rise to the elite Politburo standing committee.
Lower Targets
Air quality will be one of the metrics used this year to evaluate cadres, Shandong province governor and former securities regulator Guo Shuqing said March 7, according to the official Xinhua News Agency. Emissions from steel factories and thermal power plants in the eastern Chinese province frequently exceed national standards, according to a Jan. 14 study led by the Beijing-based Institute of Public & Environmental Affairs.
Anti-pollution measures in the eastern Chinese province will lower growth and lead to factory closures, Guo told reporters in Beijing today. Shandong took environmental protection into consideration when it set its GDP target for this year at 9 percent, compared with 9.6 percent in 2013, Guo said.
Han Zheng, party secretary in Shanghai, which suffered record pollution in December, said at his delegation's meeting: "We want only green GDP, sustainable GDP. That's in line with national strategy and long-term development."
Tackling social ills is another metric officials said they will be judged by. Closing elite clubs, curbing officials' expenses, and smashing a giant lab making methamphetamine have been trumpeted by officials in recent months to show they're aligned with national policies.
Bad Publicity
"To get promoted you need to assure no big things happen," Li Xiaoyang, assistant professor of finance and economics at the Cheung Kong Graduate School of Business, said by phone. "You don't want people to go the streets to protect the environment. That will create publicity and prevent you from getting promoted easily."
At least seven Chinese provinces are setting lower growth targets for this year compared to 2013. Hebei, which borders Beijing, set an 8 percent goal amid "unprecedented pressure" for air-pollution controls, according to an annual work report published in the official Hebei Daily Jan. 14. Last year's target was 9 percent.
Every year a series of so-called "soft" and "hard" targets are combined with performance feedback from peers and juniors to determine promotion, Standard Chartered Bank Plc economists wrote in a April 2013 report, which was based on studies of academic literature on the topic. Hard targets included economic growth, investment and fiscal revenues, they said.
"If pollution targets are becoming 'harder" then that should make a difference,'' Stephen Green, head of Greater China research at Standard Chartered in Hong Kong, said. "GDP is not soft yet, so it still matters, but probably the system is diminishing the chances of all-out growth."
To contact Bloomberg News staff for this story: Henry Sanderson in Beijing at hsanderson@bloomberg.net
To contact Bloomberg News staff for this story: Henry Sanderson in Beijing at hsanderson@bloomberg.net