Trying to Influence Washington Is Like Playing Pinball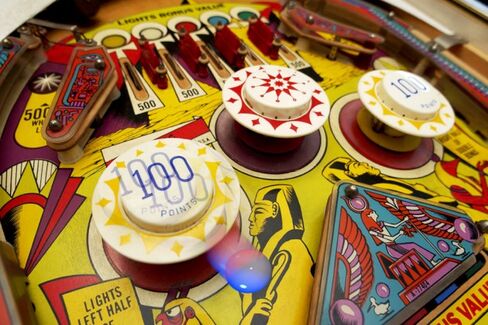 One of the quandaries every C-level executive faces is how to deal with Washington. Should executives employ hired guns—lobbyists—and seek subsidies, favors, exceptions, and exemptions from lawmakers, hoping the investment will improve the bottom line or give the company an advantage over competitors? Or should they be guided by a higher purpose and do only what's best for the country, economy, environment, etc.?
These are not mutually exclusive propositions, of course. A sweet deal that benefits a particular company may also benefit the country. Besides, executives have a fiduciary duty to do what's legal and proper to maximize returns for shareholders. If political dealmaking is what it takes, they'd be delinquent not to go for it.
The trouble with this approach, however, is that you don't always know what you're getting. As many companies are seeing with the Affordable Care Act, the Dodd-Frank Wall Street Reform and Consumer Protection Act, and other initiatives, playing high-stakes politics is like playing a pinball machine, with every action sending the ball in new and hard-to-predict directions.
Consider Dodd-Frank (PDF), the 2010 law aimed at miscreants in the banking, mortgage, and financial-services industries. The stated purpose of the law, to quote the legislation itself, is "to promote the financial stability of the United States by improving accountability and transparency in the financial system, to end 'too big to fail,' to protect the American taxpayer by ending bailouts, to protect consumers from abusive financial services practices, and for other purposes."
That's on page 1, and it's hard to argue with. But the next 847 pages, which are highly technical and frequently incomprehensible, supposedly set new rules of the game. Only they don't. Like a pinball careening off a bumper, the law sets in motion a process known as rule-making. For the lobbyists, this is where the real work begins and why they get paid the big bucks. More than three and a half years after Dodd-Frank became law, the rule-making process is still far from completed, with just 50.5 percent of the law's 398 "rule-making requirements" met, according to the law firm Davis Polk & Wardwell.
The rule-making process has resulted in a tsunami of new regulations. Last July, a Davis Polk interim report showed that just 39 percent of the required 398 rules had been finalized. But this small percentage, the law firm found, had already generated 13,789 pages of new regulations—more than 16 times longer than the original bill and 28 times longer than War and Peace.
Some of the regulations appear to make little sense—even to the experts tasked with enforcing them. For example, the law created the Financial Stability Oversight Council, which has the authority to designate certain "nonbank" financial firms such as insurance companies as "systemically important financial institutions," or SIFIs. Put in English: This is essentially saying they're too big to fail—something Dodd-Frank was supposed to end.
To see that the nonbank SIFIs don't fail, Washington will now regulate them. How? By using the exact same standards and criteria it uses for banks. But a life-insurance company isn't a bank, you say. So what, they'll do it anyway.
New Fed Chair Janet Yellen, whose agency is responsible for implementing and enforcing the SIFI regulations, doesn't think this "one-size-fits-all" regulatory approach makes sense, since insurance companies and banks are "different kinds of institutions," as she told the Senate during her confirmation hearings last fall. But the rule-making and regulation writing goes on, unaffected by common sense.
No wonder Washington is a lobbyists' paradise. And no wonder many executives can't decide how to proceed. No executive wants to play pinball with the future of their company—or their career.
Before it's here, it's on the Bloomberg Terminal.
LEARN MORE