Snow Aims at Chicago While Rain, Cold Sweep Northeast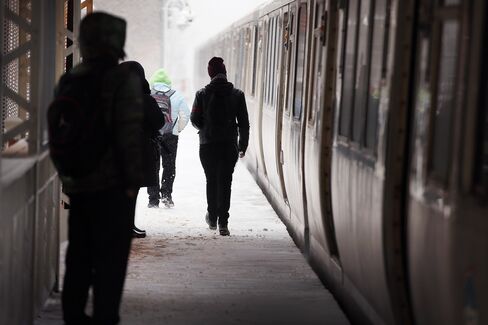 Snow was set to fall in Chicago while rain and cold from a late winter storm is forecast to sweep across the U.S. Northeast, including New York.
A winter storm warning, meaning snow may fall at a rate of 1 to 2 inches (2.5 to 5 centimeters) an hour, was in effect from 10 p.m. yesterday through 1 p.m. today in Chicago, where totals might reach 8 inches, according to the National Weather Service.
"The big problem for the folks in Chicago is that the winter has been unrelenting," said Rob Carolan, owner of Hometown Forecast Services Inc. in Nashua, New Hampshire. "It has been mild and now it is back to reality here in mid-March."
Snowstorms have battered the U.S. this winter, grounding more than 100,000 flights and costing travelers $5.3 billion in expenses and lost workdays, according to MasFlight, an airline industry data tracker in Bethesda, Maryland.
As of 1:25 a.m. on the East Coast, 438 flights around the U.S. were canceled for today, said FlightAware, a Houston-based airline tracking company. About half of them were into or out of Chicago's O'Hare International Airport.
The storms were punctuated by blasts of arctic cold that covered the eastern half of the U.S. with frigid temperatures and boosted energy demand. Natural gas inventories have dropped at a record pace of 2.62 trillion cubic feet since the end of October, toppling the previous high of 2.386 trillion in the winter of 2002-2003, according to Energy Information Administration data going back to 1995.
Gas Use
About 49 percent of U.S. households use gas for heating, led by the Midwest, EIA data show.
Gas stockpiles totaled 1.196 trillion cubic feet in the week ended Feb. 28, the lowest for the time of year since 2004.
Snow will start across Detroit by daybreak and reach Buffalo, New York, later in the morning, said Carl Erickson, a meteorologist at AccuWeather Inc. in State College, Pennsylvania.
Northern New York and New England may pick up 8 to 14 inches of snow, with some areas getting as much as 20 inches, Carolan said. A winter storm warning was in place from Illinois to Maine.
"This may be the biggest storm of the year for northern New England," Carolan said. "This is going to allow them to ski until early May."
A similar alert was posted across parts of Ontario, Quebec and New Brunswick by Environment Canada. The agency is also warning of heavy rain in Nova Scotia.
Canada Outlook
Special weather statements were issued for Toronto and Ottawa, where as much as 4 inches of snow may fall, said Canada's weather agency. Montreal may get as much as 8 inches.
Rain is expected in the cities along the U.S. Northeast coast, including New York and Philadelphia, where thunderstorms may occur, the weather service said.
The storm could end as snow in Boston and New York, though it will leave very little accumulation on the ground, Carolan said.
The system will be followed by a sharp drop in temperatures before a rebound by this weekend, Carolan said.
The low in Chicago is expected to be 9 today with a high of 49 by the end of the week, AccuWeather said. In New York, lows are forecast to reach 20 in two days before temperatures climb to a high of 55 this weekend.
It was 65 degrees in Central Park at 4 p.m. yesterday, the weather service said.
"It will turn sharply colder," Erickson said. "It could be some of the biggest temperature drops you can see at this time of year."
Before it's here, it's on the Bloomberg Terminal.
LEARN MORE