Siemens Said to Weigh Sale of Microbiology Unit in Revamp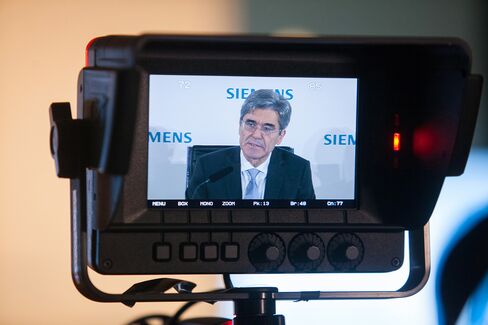 Siemens AG is exploring a sale of its microbiology unit as Europe's largest engineering company reviews its business strategy, according to people familiar with the matter.
The Munich-based company has hired a bank to seek potential buyers for the business, which could fetch between $300 million and $600 million, according to one of the people, who asked not to be identified because talks are private.
The unit, which is part of the larger diagnostics division with 3.9 billion euros ($5.4 billion) in revenue, supplies equipment for bacterial identification and antibiotic susceptibility testing. BioMerieux, a French maker of tests for HIV and hepatitis, is among companies that will take a look at the business, two of the people said.
Siemens Chief Executive Officer Joe Kaeser, who took over as CEO in August after a series of missed profit goals, is reviewing the German company's portfolio before a planned strategy update in May. Siemens, which completed a cost-cutting program at its health-care sector last year, has sold assets such as water technologies to close the profitability gap with competitors ABB Ltd. and General Electric Co.
"I think it makes more sense to try to sell the diagnostics business as a whole," Frankfurt-based Commerzbank analyst Ingo-Martin Schachel, who has a hold rating on Siemens, said by phone. "From a growth perspective the microbiology division looks fine, but it has very low market share, so it seems that organically they would have difficulty to reach a meaningful market share."
Unsolicited Marketing
Investment banks have also been gauging private-equity interest in the larger diagnostics division even though Siemens hasn't decided to sell the business or hired a bank to explore a disposal, according to people familiar with the matter. Banks have pitched the business to buyout firms including Blackstone Group LP and Carlyle Group LP, they said.
The unsolicited marketing of the diagnostics business, as well as profit margins that trail the health-care business overall, has led to speculation it could be sold, the people said.
Representatives for Siemens, BioMerieux, Blackstone and Carlyle declined to comment.
Siemens's diagnostics operations are worth about 6 billion euros, according to Paris-based Societe Generale SA analyst Gael de Bray. The diagnostics division competes with the likes of Switzerland's Roche Holding AG and Abbott Park, Illinois-based Abbott Laboratories in providing products to analyze bodily fluids such as blood or urine to detect and manage disease.
Losing Ground
"We would advise Siemens to follow Johnson & Johnson's lead and rid itself of a unit requiring major investments to remain competitive against peer Roche," Kepler Cheuvreux analyst Hans-Joachim Heimbuerger, who recommends buying Siemens shares, said in a Feb. 18 note to clients. "If Siemens fails to react fast, its diagnostics business is likely to lose further ground to peers and may potentially face margin erosion, which would make it a hard-to-sell asset in a few years' time."
Siemens expanded its health-care division in 2006 and 2007. The company spent about 11 billion euros on the acquisitions of Diagnostic Products Corp., Bayer AG's diagnostics unit and Dade Behring Holdings Inc.
Before it's here, it's on the Bloomberg Terminal.
LEARN MORE