Scene Last Night: Dan Loeb for Harvard, Sam Mendes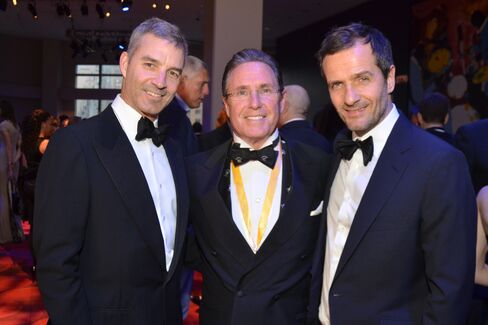 Harvard men in drag danced around Dan Loeb, the hedge-fund manager. Alan Cumming serenaded Gary Cohn, president of Goldman Sachs Group Inc.
Attending two benefits honoring big-shot Brits in the film industry made for a wild Monday night in New York.
Loeb was at the table of producer David Heyman, his friend of more than 20 years and the honoree at the gala of the Hasty Pudding Institute of 1770. That organization comprises Harvard's only co-ed undergraduate social club, its all-male Krokodiloes a capella group, and the Theatricals, a troupe whose cast members are all men in drag.
"I didn't even think of applying," said Loeb of Harvard College (he majored in economics at Columbia). "But I was rejected from the business school, so I have that going for me." (He never went to business school.)
"I was rejected by Hasty Pudding again and again," Heyman said, "so it's nice to be honored by them."
Thirty blocks south at the Roundabout Theatre Company gala honoring director Sam Mendes, Goldman's Cohn sat up against the stage, next to Griffon Corp. chief executive Ron Kramer. Cumming appeared because Mendes is bringing him back to Studio 54 for a revival of "Cabaret," beginning March 21.
The night at the Hammerstein Ballroom was meaningful to the Roundabout because Mendes directed the nonprofit theater company's previous 1998 revival of the musical, which originated at the Donmar. The production won Tony awards and attracted the attention of Steven Spielberg, who then tapped Mendes to direct "American Beauty."
Drexler, Flowers
More recently, Mendes took on Daniel Craig's 007 in "Skyfall" and the upcoming "Bond 24."
The Hasty Pudding gala, hosted in the Appel Room at Jazz at Lincoln Center, drew J. Crew boss Mickey Drexler, buyout executive J. Christopher Flowers, Related Cos.'s Jeff Blau and psychiatrist Samantha Boardman.
Zachary Dinan, a freshman member of the club and the son of York Capital Management's James Dinan, said his highlight was posing for a photograph with Neil Patrick Harris, the 2014 Hasty Pudding Man of the Year. (Hasty Pudding's Woman of the Year was Helen Mirren, adding to the evening's British quotient.)
Freshmen "punch" the club by interacting with members at cocktail parties and dinners, which along with service days make up the group's activities.
Cinnamon Pudding
Humor had a big role. Sandra Bullock appeared in a video, sitting in a car with her son, claiming not to know who Heyman was (he produced "Gravity"). Emma Watson, also in a video, complained that Heyman always calls her Emily (he produced all the Harry Potter films). Two of Heyman's early films, "Juice and ''The Stoned Age,'' were included in a satirical biography of the honoree.
True to the club's name, the evening was speedy, fulfilling a goal set by its host, Andrew Farkas, the Graduate Chairman and Grand Sphinx of the Hasty Pudding Institute.
At 8:30, Farkas, who runs his own real estate investment firm, Island Capital Group, announced that the honoring was done and encouraged guests to move to the after-party. He'd had time to acknowledge the Related Cos. as a sponsor, make fun of himself and finish eating the actual Hasty Pudding: a brown, sweet, cinnamony mush served with cream.
Farkas also emphasized the club's philanthropic mission: it makes grants for arts education and aims to ''encourage satire, comedy and the cultivation of young talent," according to a brochure.
Heathers Musical
At the more drawn-out Roundabout gala, Jeremy Irons joked about its comprehensive approach to Mendes's career as the hour approached 11.
"We understand now completely what a director does," the actor said. "I'm going to go home and direct something."
By then, the audience had seen full scenes from "American Beauty" and "Road to Perdition" as well as video interviews with Paul Newman and Kevin Spacey about working with Mendes (Spacey referred to him as "Sama Lama.") Judi Dench, "M" in the latest Bond film, spoke in a video filmed by the water in India. Helen Mirren attended in person.
Actors in the Bridge Project performed Shakespeare excerpts, Bernadette Peters sang Sondheim and Marc Shaiman and Scott Wittman performed one of their songs from "Charlie and the Chocolate Factory," a Mendes-directed musical now playing in London's West End.
The music from the Hasty Pudding Stage wasn't all performed by men in drag. The female leads in "Heathers The Musical," based on the Winona Ryder film, performed "Candy Store" ("Time for you to prove you're not a loser anymore"), dressed in knee-high socks and knife-pleat miniskirts. The show opens off-Broadway on March 15.
Ego Trips
"I only wish J.K. Rowling were here," said Heyman as he accepted his award. "She might have been less reluctant to allow a musical version of Harry Potter."
Heyman said he and his firm, Heyday Films, are working on "Paddington" now, with Colin Firth voicing the animated British bear. The film is due out toward the end of the year.
Of "Gravity," he said, "Yes it was risky -- we didn't know how the hell we were going to make the film, but when you are working with talented people, you know you're going to be part of something extraordinary. I'd rather do that than toe the line."
Mendes closed the Roundabout event by reading aloud his "25 steps toward becoming a happier director."
No. 8: "Confidence is essential, ego is not."
No. 25, "Never ever forget how lucky you are to do something you love."
He also commented on the effort made on his behalf.
"One of the things about Americans, you do massive ego trips incredibly well," he said.