With Keurig 2.0, Green Mountain Wants Its Monopoly Back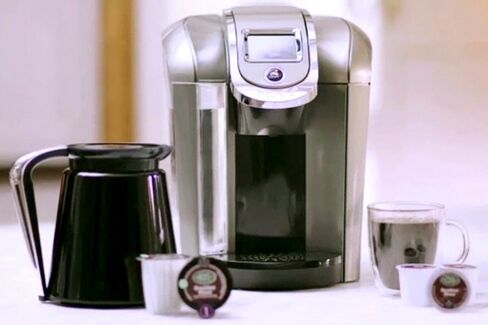 When Green Mountain's K-Cup patents expired in September 2012, the marketplace opened for rivals to sell their own pods for the company's single-serving Keurig coffee machines. Now the company has found a way to recreate the competition-free conditions that made the early Keurig so lucrative: Redesign the coffee machine.
This fall, Green Mountain will start selling a new brewer called Keurig 2.0 that will replace the existing lineup about one year after the launch. The new machines will be compatible only with pods made by the company, which has just changed its name to Keurig Green Mountain). This strategy has landed the company in court over allegations of anticompetitive practices.
Keurig 2.0 brewers will use proprietary "interactive technology," meaning the machines will have a reader that scans Green Mountain-licensed packs for specific "recipe" instructions for a particular kind of coffee, tea, or other beverage, much as current Keurig Vue brewers do. Unlike the existing machines, Keurig 2.0 will also be able to make more than a single cup of coffee.
A lawsuit filed on March 10 by a Florida consumer, Judy Hoyer, claims that because the 2.0 machines "lock out" unlicensed pods, consumers may not have access to their preferred brands or to lower-cost options offered by rival manufacturers. The design of the Keurig 2.0 machines only helps the company "maintain its monopoly over the markets for the sale of portion packs and compatible cups by excluding competition and the lower-priced competitive cups," according to the complaint.
Hoyer's complaints are similar to a separate suit filed in February by TreeHouse Foods, an Illinois-based pod maker seeking an unspecified award for punitive damages, according to the Associated Press. TreeHouse Chief Executive Officer Sam Reed, too, argues that allowing competitors to produce pods for Keurig machines results in such consumer benefits as better pricing and assortment.
Unlicensed pods have quickly grown to about 14 percent of the single-serve market, with the rest still controlled by Green Mountain, which has licensing and manufacturing deals with major brands like Starbucks and Folgers. As Businessweek.com reported last week, Keurig Green Mountain has been trying to take over production of the unlicensed pods and expects the unlicensed share to begin declining later this year. The packs have come to represent the bulk of the company's revenue.
"We believe the suit is totally without merit and we intend to defend it vigorously," said Green Mountain spokeswoman Suzanne DuLong in an e-mail. Because Keurig 2.0 machines are designed to optimize the beverage with specific recipes, she added, "it is critical for beverage quality that the system only brews Keurig brand packs." All of the roughly 50 brands currently sold in K-Cups will be available for the new machine.
"Since entering the market, we have been instrumental in the growth of the
single-serve coffee market," Treehouse's Reed said in a statement. Green Mountain, it seems, would rather grow the market itself.
Before it's here, it's on the Bloomberg Terminal.
LEARN MORE