Bob Crow, Union Leader Who Shut London's Tube, Dies at 52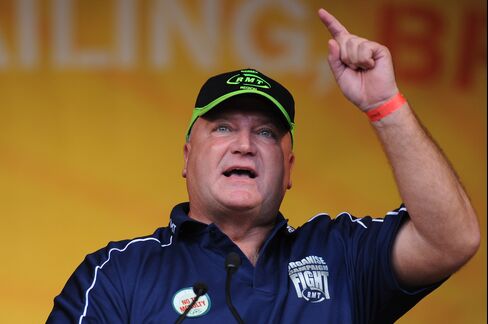 Bob Crow, whose willingness to call strikes as leader of the U.K.'s Rail, Maritime and Transport Union made him a hated figure for commuters and a hero for its members, has died. He was 52.
"It is with the deepest regret that RMT has to confirm that our general secretary, Bob Crow, sadly passed away in the early hours of this morning," the union said in a statement on its website, without providing details of his death. Crow had led the union since 2002.
Last month, an RMT strike brought the London Underground, the subway system better known as the Tube, to a standstill for two days, forcing people onto the streets of the capital and creating gridlock on the roads. In an interview broadcast yesterday, Crow defended his tactics as delivering results.
"Our members, in the main, have had pay rises every single year right the way through austerity," Crow told BBC Radio 4. "They have got good pensions, good holidays." Under his leadership, membership of the union rose from 20,000 to 80,000.
Crow, who in an interview with the Guardian newspaper in 2009 described himself as "Communist stroke socialist," was often depicted with unflattering photos in newspapers that opposed his tactics. The publicity didn't faze him.
On Feb. 4, as the strike deadline approached, he arrived at City Hall as Boris Johnson, the Conservative London mayor, was conducting a radio phone-in. Crow called the radio station demanding that he meet with Johnson.
Mayor's Tribute
"Bob Crow was a fighter and a man of character," Johnson said today in an e-mailed statement. "Whatever our political differences, and there were many, this is tragic news. Bob fought tirelessly for his beliefs and for his members."
No stranger to controversy, Crow heckled Labour Prime Minister Tony Blair when he addressed a Trades Union Congress meeting over political differences in 2006. In 2010, he staged a walkout when then Bank of England Governor Mervyn King addressed delegates.
Photographs of Crow relaxing on a beach in Rio de Janeiro, published in the Mail on Sunday last month during negotiations before the tube strike, prompted no apology.
"What do you want me to do?" he said. "Sit under a tree and read Karl Marx every day?"
Crow was born on June 13, 1961, in east London. He left high school at 16 to work on London's railways as part of a tree-felling gang, British Broadcasting Corp. reported. At age 20, he became a local representative for the then National Union of Railwaymen.
He was a lifelong supporter of the South London soccer club Millwall, whose fans' motto typified his attitude: "No one likes us, we don't care."
"He fought really hard for his members, former Labour Mayor Ken Livingstone said in an interview with Sky News today. ''The only working-class people who still have well-paid jobs in London are his members.''