Ahold Buys 50 Stores in Czech Republic for $266 Million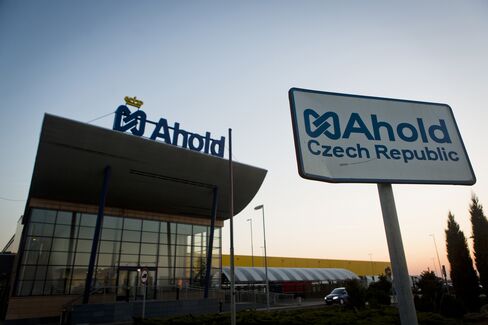 March 11 (Bloomberg) -- Royal Ahold NV, the owner of Stop & Shop stores in the U.S., agreed to buy Spar AG's business in the Czech Republic for 5.25 billion koruna ($266 million) to become that country's largest food retailer.
The Dutch company, which operates 284 stores in the Czech Republic, will buy 36 compact hyper markets and 14 supermarkets, it said today in a statement. The 50 stores had sales of 12 billion koruna in 2013, Ahold said.
"It allows us to combine two companies that have a natural fit," Chief Executive Officer Dick Boer said in the statement.
Ahold, which entered the country in 1991, is expanding in countries where it's already active and in adjacent markets. The retailer agreed to sell its activities in neighboring Slovakia in November last year.
To contact the reporter on this story: Elco van Groningen in Amsterdam at vangroningen@bloomberg.net
To contact the editors responsible for this story: Simon Thiel at sthiel1@bloomberg.net Thomas Mulier, Kim McLaughlin