With Chiquita-Fyffes Merger, Dole Will No Longer Be Top Banana
There can be only one blue banana label. Chiquita Brands International and Dublin-based Fyffes today announced that they plan to merge, replacing Dole Food as the world's largest banana company. Between them, the new ChiquitaFyffes and Dole will control about half the banana market.
Dole has about one-fourth the global market share. Chiquita, with $2 billion in annual banana sales, has 22 percent, and Fyffes about 7 percent, according to 2011 data from the U.K. nonprofit Banana Link.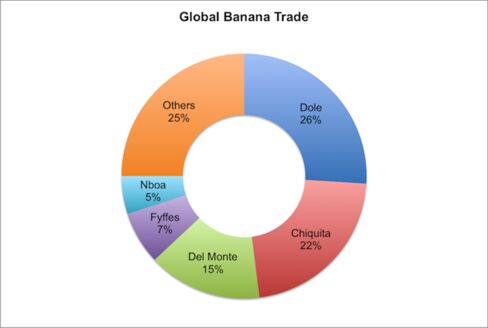 The merger will reduce costs for both Chiquita and Fyffes, according to an investor presentation (PDF). Banana Link called the move a "strategy for survival," saying the "two big fruit companies have felt the downward pressure of the big retail buyers on their margins."
This trend is a challenge for banana companies. Chiquita, which sells to both wholesalers and retailers, explained in its 10-K filing: "We are facing new competition from a few major retailers that have begun to purchase a portion of their fruit directly from independent growers, or to contract directly for transportation of tropical fruit products." While this is still a small part of the market, it could reduce Chiquita's revenue and profitability if it becomes more common. The company's operating income from bananas fell in recent years. The deal gives ChiquitaFyffes better negotiating power with retailers, the Financial Times reported.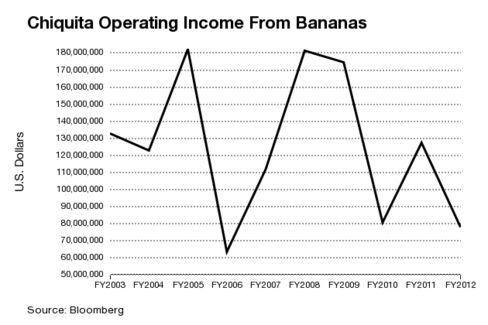 Retail banana prices in the U.S. have been about level in recent years, according to data from the Food and Agriculture Organization of the United Nations. That's partly because grocers don't want to mess with the price of a popular product that keeps customers coming back. Americans eat more bananas than any other fresh fruit, the UN group explained in a report (PDF), and supermarkets have "spread temporary losses from higher wholesale prices across other products that they sell while maintaining the prices of bananas for their consumers low."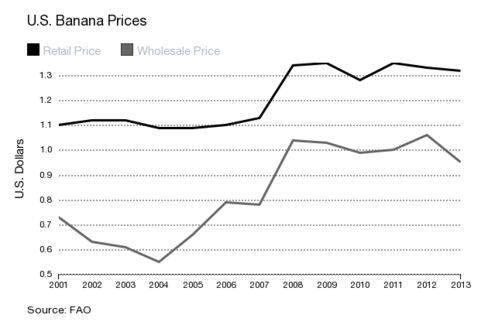 Before it's here, it's on the Bloomberg Terminal.
LEARN MORE