Japan Synthetic Warrant Fund Gains 398% on Convertibles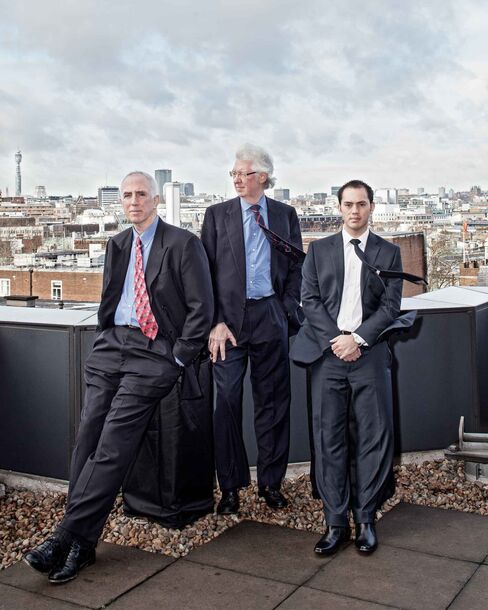 Matthew Lonergan says that from year to year, the Japan Synthetic Warrant Fund either makes big money -- or loses it.
"We're usually either the hero or the goat, and last year, we were the hero," says Lonergan, a fund manager and partner at Stratton Street Capital LLP in London who oversees the fund with Trevor Sliwerski and Adrian Edwards.
The Japan Synthetic Warrant Fund B was the best-performing Japanese bond fund in 2013, soaring 398 percent, according to data compiled by Bloomberg. This year through February, the fund climbed 3.2 percent. The $14.6 million fund was fourth smallest among more than 170 Japan-focused peers, according to data compiled by Bloomberg.
The fund, which is denominated in yen, racked up those results by buying convertible bonds in a strategy that multiplies gains in Japanese shares, Bloomberg Markets magazine will report in its April issue. "If we do things right, we should get three to five times the returns on stocks," Lonergan, 55, says. Last year, Japan's Nikkei 225 Stock Index soared 57 percent, its second-best-ever yearly return.
The nation's shares surged as Prime Minister Shinzo Abe pressed his so-called three arrows of reform to resuscitate the economy. The first of those initiatives to make an impact was the Bank of Japan's unprecedented expansion of monetary easing that weakened the yen by 18 percent for the year, a boon to exporters.
Convertible Bonds
The fund's strategy is based on, in effect, synthetically splitting the fixed-income and equity warrant portions of convertible bonds. Convertibles are corporate debt securities that can be exchanged for a company's stock -- typically when shares rise above a specified price. The fund buys the bonds in the open market. It then sells the fixed-income portion via a so-called asset swap to a counterparty -- usually a large Japanese bank -- with an option to buy it back.
The fund pays a premium for that repurchase option, giving it an initial, limited loss. If an issuer's stock starts to climb, the fund can buy back the fixed-income portion, re-package it with the implied warrant to buy the shares and sell the convertible. The fund, which controlled about $115 million in Japanese convertible bonds at the end of December, thus profits to the extent that the sales price on the bond exceeds its cost plus the premium paid for the option. Options are contracts that grant the right to buy or sell an asset at a set price at or before expiration.
Few Investors
Japan's low interest rates mean that the premiums Stratton Street pays for swaps are also low. And while there's a deep market for equity futures in Japan, there isn't one for long-dated options, and the convertible bond sector has relatively few investors competing to capture the upside potential of the implied share warrants, Lonergan says.
"It's the best way of getting long-dated, geared exposure on the underlying equity market," he says.
The downside is volatility. The fund's near-fivefold gain last year and 101 percent jump in 2012 contrast with a 94 percent drop in 2008.
"It's a crazy fund," Lonergan says. "It's volatile beyond all measure."
Started in 2005, Japan Synthetic Warrant makes up a small fraction of the $1.6 billion of assets Stratton Street manages and advises on. The fund has swung from as much as $125 million in assets to as little as $2 million as gyrations in Japan's equity markets were magnified by the leverage of the strategy, according to Sliwerski, 63, a partner at Stratton Street. At the low ebb, Sliwerski says, his team decided to keep the fund going to maintain its regulatory and legal structure.
"We need to be still standing when the turn comes," he says. "When Japan goes, JSW is the sex and violence about what happens in Japan."
Yen Direction
The direction of Japanese stocks largely depends on whether the yen will continue to fall. Currency declines also curb returns for foreign investors. A U.S. dollar–denominated version of the JSW fund rose 307 percent in 2013, lower than its yen-based sister, though still higher than all dollar-based funds that had 90 percent or more of their assets in Japan, according to data compiled by Bloomberg.
Shareholders of the fund include high-net-worth individuals, hedge funds and funds of funds, Lonergan says. Investors in one camp think Japan is "going to the moon, and they want to get rich on it," Lonergan says. Investors making up the other half "really hate the Japanese equity market," he says, and put a small portion of their money into the fund as a type of insurance.
High Turnover
Turnover in the fund is high, as investors dip in and cash out when they get leveraged returns, Sliwerski says. Although last year's returns were very welcome, Sliwerski says, his team tries to manage expectations.
"This is the type of product that pays once every few years," he says.
The question remains whether the Nikkei, coming off two years of double-digit gains, has any momentum left. The index was at 15,120.14 as of March 10, down 7.2 percent for the year to date and still less than half its peak in 1989. The gauge could advance to 18,000 by year's end, according to the median estimate of 13 forecasters polled by Bloomberg News in February.
A rise to 18,000 in 2014 would represent a gain of 10 percent for the year. Given projections for Japan's equity market and the leverage of the fund, the Japan Synthetic Warrant Fund could have another good run, Lonergan says.
"It could easily double again this year," he says.
Before it's here, it's on the Bloomberg Terminal.
LEARN MORE