Japan Display Prices Initial Share Sale at Bottom of Range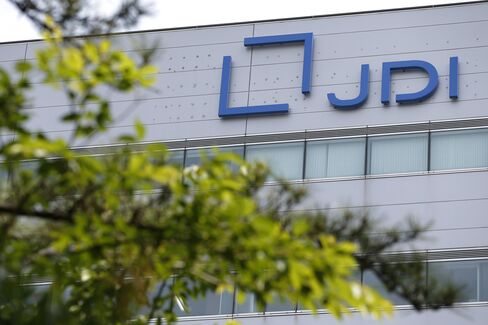 Japan Display Inc., a supplier of screens for Apple Inc. devices, and its investors will raise about 318.5 billion yen ($3.1 billion) after pricing its initial public offering at the bottom of the range.
Japan Display sold shares at 900 yen a piece, according to a statement to the Japan's Finance Ministry. The company sold 140 million new shares and investors including Sony Corp. offered 213.9 million existing shares, according to the filing.
The IPO offers a partial exit for state-backed Innovation Network Corp. of Japan, which bought a 70 percent stake in the company for 200 billion yen in 2012. Japan Display was created when Sony, Toshiba Corp. and Hitachi Ltd. spun off their panel businesses to INCJ after struggling to compete in the television display market.
"The price is appropriate for the start," said Yoshihiro Nakatani, a senior fund manager at Asahi Life Asset Management Co. in Tokyo. "The display business needs a huge investment and will take time to generate a return from the investment."
Japan Display planned to sell shares in the range of 900 to 1,100 yen, according to terms for the deal obtained by Bloomberg News March 3.
INCJ sold 186 million shares in the IPO to Japanese and international investors, according to the filing. At the IPO price of 900 yen, that stock is valued at 167.4 billion yen. The fund will retain 214 million shares, which is about 35 percent of Japan Display's issued capital.
Japan Market
The fund's total investment in Japan Display is valued at 360 billion yen based on the IPO price, about 80 percent more than its initial investment.
Japan's Nikkei 225 Stock Average surged 57 percent last year, according to data compiled by Bloomberg, encouraging investors such as Bain Capital LLC and Cerberus Capital Management LP to recoup funds through first-time share sales. Nomura Holdings Inc., the country's No. 1 equity underwriter in 2013, expects IPOs will almost double to 1 trillion yen this year.
Shares of Japan Display will start trading in Tokyo on March 19, according to the terms. Nomura, Morgan Stanley and Goldman Sachs Group Inc. are joint global coordinators for the offering, the terms show. Bank of America Corp., Deutsche Bank AG and UBS AG are also among banks helping manage the sale.
INCJ, as the government-backed fund is known, was founded in July 2009 to invest in technology that would make Japan's industries more globally competitive. It has invested about 700 billion yen in 57 projects as it focuses on energy, electronics, information technology and biotechnology, it said in a Feb. 12 statement.
The fund has 280 billion yen of funds from the government and companies, and has the capacity to invest as much as 2 trillion yen backed by government guarantees, its website shows.