Poland Watching Putin Puts Euro Option Back in Play: Currencies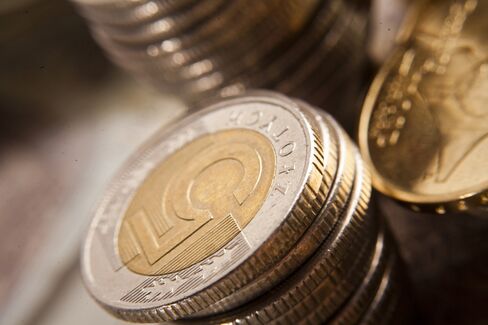 March 7 (Bloomberg) -- The crisis in Ukraine is putting the question of Poland's accession to the euro back on the agenda as the military standoff stirs memories of the Cold War.
Central bank Governor Marek Belka said this week that eastern Europe's biggest economy should reconsider its reluctance to euro membership because of security concerns sparked by the conflict across the border. Government officials damped speculation of a speedy accession, with an aide to Prime Minister Donald Tusk calling the debate "premature."
"Belka's arguments will gain weight and will be brought up more often," Piotr Bujak, the chief economist at the Polish unit of Nordea Bank AB, said by phone from Warsaw two days ago. "It's all a matter of political will, but for now I don't expect it to affect Poland's euro-adoption strategy."
The 18-nation euro's allure is increasing as the currency bloc emerges from a sovereign-debt crisis that threatened to rip it apart less than two years ago. The euro has appreciated 14 percent from a 12-year low in August 2012 against a basket of the dollar, yen, U.K. pound and six other developed-market currencies, according to Bloomberg Correlation-Weighted Indexes.
Entry Target
Poland, which ditched plans to join the European currency in 2012 because of the region's economic woes, has refused to set a date for accession, saying it will switch its zloty for the euro after the monetary union fixes its problems. The global financial crisis only strengthened its resolve, with the zloty's 14 percent depreciation versus the euro in 2008 helping make Poland the only European Union member to avoid recession.
The zloty has outperformed most of its peers, showing the underlying strength of Poland's economy. It has risen the most against the euro among 24 emerging-market currencies tracked by Bloomberg over the past six months, appreciating 1.8 percent even as a reduction in the U.S. Federal Reserve's stimulus program and signs of a slowdown in China led investors to pull money from developing nations.
Russian President Vladimir Putin's military incursion into Ukraine's Crimea region "has the hallmarks of a conflict that could lead to war," Tusk said on March 2, calling on the EU to help its eastern neighbor withstand Russia's "aggression."
'Core Group'
Belka said the standoff in Ukraine is increasing the political benefits of becoming part of the euro area and its $12 trillion economy, which would give Poland a seat among the "core group" of EU countries.
Economic sentiment in the euro area rose to the highest level in more than 2 1/2 years in February, while services and manufacturing expanded the most since June 2011.
"There's more influence" inside the euro area on issues ranging from defense to energy policies, Belka told reporters this week. "Even if the economic benefits today look modest, we need to make the political calculation as well."
The euro area "is an island of stability" that "certainly looks attractive" to countries that feel threatened by the situation in Ukraine, Mario Draghi, the president of the European Central Bank, told reporters in Frankfurt yesterday, when asked about Belka's comments.
Latvia became the 18th member of the euro on July 9. Its economy contracted by about 20 percent from 2008 to 2009, following its 7.5 billion-euro ($10.4 billion) bailout from a group led by the EU and International Monetary Fund in 2008. Since then its fortunes have improved, with growth exceeding 5 percent in 2011 and 2012.
Safety Cornerstone
Euro adoption is the "cornerstone of safety" for Poland over the next generation, just as the switch to capitalism was crucial for boosting the economy after the collapse of communism 25 years ago, Janusz Palikot, the head of the opposition Your Movement party, said in parliament in Warsaw two days ago.
He called on Tusk to be "bold" in pushing through economic changes needed to join the single currency.
There's no need to restart the euro debate because the membership question won't be resolved in "months or even years," Jan Bielecki, Tusk's chief economic aide, said on public radio this week. He said that accession requires constitutional changes that are impossible without broad political support.
Bielecki also said he's "optimistic" about Poland's economic readiness to join the currency and that the country will be "in better shape than many euro members" next year.
Maastricht Criteria
Poland won't meet the euro's Maastricht entry criteria, including a budget deficit below 3 percent of economic output, until next year at the earliest, according to EU forecasts. The requirement to keep the zloty pegged in a band to the euro for two or more years prior to the switch is another sticking point.
Belka said last month that Poland should insist on "its own terms" for adopting the euro.
"It's not an easy decision to join the euro, especially for a country with a floating currency," Valentin Marinov, the London-based head of European Group-of-10 currency strategy at Citigroup Inc., said by e-mail yesterday. "The euro-zone debt crisis has demonstrated the perils of losing currency flexibility for small, open economies."
Euro members Greece, Portugal and Ireland needed foreign aid to shore up their finances as their cost of borrowing soared. Poland's $490 billion economy is the EU's third-biggest outside the euro region after Britain and Sweden.
Zloty Declines
The zloty fell 1.1 percent against the euro over the past week, the third-worst performance among emerging-market peers, and was at 4.1993 to the shared currency as of 1:14 p.m. in New York. Forwards prices show the Polish currency weakening to 4.21 by June 30 and 4.25 by Dec. 31, according to data compiled by Bloomberg.
Crimean lawmakers called a referendum yesterday to return Ukraine's Black Sea peninsula to Russia as the EU halted trade and visa talks with Putin's administration. At an EU summit in Brussels, eastern EU states including Poland calling for a tough line on the Kremlin clashed with western peers who wanted to offer Russia more time to pull back before imposing sanctions.
"Poland is under much less Russian influence than Ukraine," Henrik Gullberg, a strategist in London at Deutsche Bank AG, the world's biggest currency trader, said by e-mail yesterday. "It's located next to Germany, which should mean there would be sufficient security."
While Poland shouldn't "sprint" toward euro entry because the balance of economic costs and benefits hasn't changed, its leaders should reassess how Russia's offensive influences the politics of closer EU ties, according to Belka.
"The Ukraine crisis shows that it's worth making a bigger investment in the EU," he said.
To contact the reporters on this story: Piotr Skolimowski in Warsaw at pskolimowski@bloomberg.net; Maciej Onoszko in Warsaw at monoszko@bloomberg.net
To contact the editors responsible for this story: Balazs Penz at bpenz@bloomberg.net; Wojciech Moskwa at wmoskwa@bloomberg.net Rita Nazareth