Here Comes a Plane Full of NYC Brides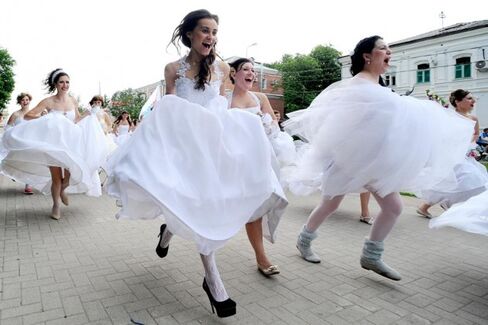 On Memorial Day weekend, a plane will land in San Francisco filled with nubile New York City women who are looking to find love. That's if all goes according to plan.
A startup called the Dating Ring is aiming to raise $50,000 to solve what it sees as a demographic dilemma: "There are tons more single women in NYC, and tons more single men in SF," reads the company's campaign on crowdfunding site, Crowdtilt. "And, see, the two cities are only separated by a bunch of crappy airports, flight delays, and cheap roundtrip flights."
For a donation of $20, NYC women win the chance to be selected for a free flight to SF. Donations of $1,250 guarantee the full package: a flight to SF, housing for four nights, three dates, two parties (see below), and three private 30-minute matchmaking and date-coaching sessions via Skype.
Bay Area bachelors can pay $20 to attend the lady-filled Memorial Day bash, or $100 for a ticket to the more refined cocktail party. For an extra $250, guys who are a little nervous about their prospects and social skills can sign up for three 30-minute matchmaking and coaching sessions.
The Dating Ring, a Y-Combinator-incubated startup that sets up group dates, admits that the idea of crowdfunding cross-country love started as a joke but adds, "You know what they say—make a joke 12 times, and it becomes a Crowdtilt." So far, 91 contributors—presumably women, or their families and friends—have donated $3,240. The campaign has seven days to reach the Tilt limit of $10,000.
"I know it sounds crazy, but so do the plots of most modern-day romcoms, and guess what happens at the end of those? Rachel McAdams and Ryan Gosling fall madly in love. Each. And. Every. Time," reads the pitch. "Because crazy things make people fall in love."
Most romcoms don't involve mass migrations of marriageable single ladies to women-starved locations, but at least one television series is based on the premise: Here Come the Brides, a 1960s/70s show about a logging crew in Seattle that imports 100 women from Massachusetts. The series ran for two years, so it must have been entertaining.
There has thankfully been some social progress since those days. In June, the Dating Ring plans to fly a planeload of Bay Area dudes to NYC. That plan, however, is somewhat less popular. So far, nine people have contributed $1,270.
If the SF-NYC connection works out, the Dating Ring could expand to other cities. Men living alone most outnumber women living alone in Las Vegas; Honolulu; Palm Bay, Fla.; Gary, Ind.; and San Jose, Calif, according to Trulia Trends. Women most outnumber men in Bethesda, Md.; Washington, D.C.; Boston; New York; and Raleigh, N.C.
Of course, there's one small problem that cross-country couples will have to figure out on their own: how to keep their long-distance love going strong while navigating all those crappy airports, flight delays, and cheap roundtrip flights.
Before it's here, it's on the Bloomberg Terminal.
LEARN MORE