German Industry Output Rises as Mild Winter Boosts Construction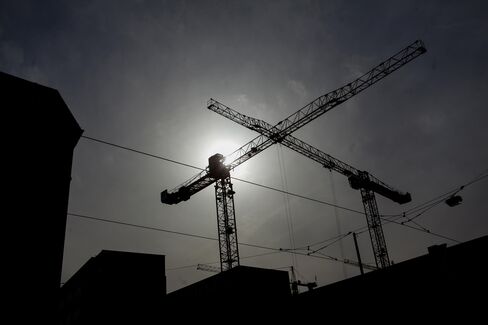 German industrial output rose for a third consecutive month in January as mild winter weather boosted construction activity.
Production, adjusted for seasonal swings, increased 0.8 percent from December, when it gained a revised 0.1 percent, the Economy Ministry in Berlin said today. That's in line with the median estimate of 38 economists in a Bloomberg News survey. The ministry had initially reported a December decline in output of 0.6 percent. Production jumped 5 percent in January from the previous year when adjusted for working days.
Europe's largest economy experienced the fourth-mildest winter since records started in 1881, according to Germany's National Meteorological Service, bolstering a recovery driven by both domestic consumption and export demand. Business confidence in the country is at 2 1/2 year high, unemployment at a two-decade low, and factory orders rebounded in January.
"In the euro zone as a whole and especially in Germany, the trend is clearly upwards," said Alexander Koch, an economist at Raiffeisen Schweiz in Zurich. "The data for orders were really strong, indicating a strong performance in the first months of 2014."
The German economy grew more than economists expected in the three months through December, helping drive a faster-than-forecast expansion in the euro area.
Strengthening Pickup
"Increasing stimulus from foreign demand, paired with a continually robust domestic economy, are crucial for the strengthening economic pickup," the Bundesbank said in its monthly report on Feb. 17. It predicts growth will accelerate from 0.4 percent in 2013 to 1.7 percent this year and 2 percent in 2015.
Construction surged 4.4 percent in January from the previous month after advancing 2 percent, according to today's report. Manufacturing output increased 0.3 percent, with investment-goods production rising 0.8 percent. Output of basic goods gained 0.2 percent and consumer-goods production dropped 1.2 percent. Energy output was up 1.1 percent in January.
"Industrial production continues to be directed upward at the beginning of the year," the ministry said in a statement. "The mild winter should have contributed to the strong expansion in construction output."
German home construction will rise to the highest in 12 years in 2014 as an increase in the country's workforce and low borrowing costs fuel demand, the ZDB and HDB construction associations said on Jan. 22. Investment will rise by 5 percent to 35.3 billion euros ($49 billion) this year, they said.
The European Central Bank's Governing Council kept its benchmark interest rate at a record-low 0.25 percent yesterday, with President Mario Draghi saying that the firming recovery in the euro area didn't warrant further monetary-policy easing.