Wes Anderson's Beautiful Things
The director creates luxurious sets filled with covetable items. So why aren't they for sale?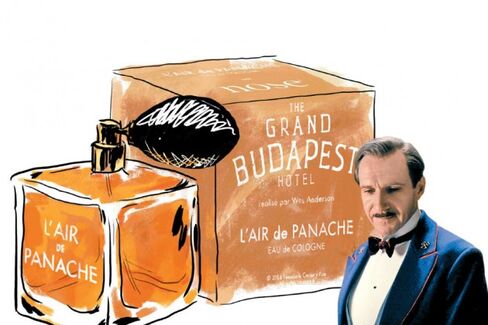 Shortly after we meet Gustave H., the hero-concierge played by Ralph Fiennes at the center of Wes Anderson's The Grand Budapest Hotel, we get a whiff of his cologne. Several bottles of clearly labeled L'Air de Panache are lined up in his room, and there's another in his coat for liberal spritzing throughout the day. For the French première in February, a Parisian boutique even created a batch. It's supposed to smell like apples and the woods, with base notes of old lady.
There are no plans to sell the fragrance. Nor the massive collection of luggage belonging to Tilda Swinton's Madame D. character, or the black leather jacket with special pockets for a flask and a gun, worn throughout with expert menace by Willem Dafoe. Prada designed the luggage and jacket, then put them on display in its Berlin store during the German première, but this was strictly an "artistic collaboration," according to the Italian luxury label, not a commercial one.
Instead, Anderson's eighth film—his most blockbustery to date—follows the business model of his smaller works: The writer-director creates highly stylized alternate universes, then hopes audiences buy into them by suspending common sense. This time it's 1932, and we're in the fictional Republic of Zubrowka, a European alpine town that was "once the seat of an empire." The story, which is within a story within a story—even the narratives are nested, how adorable—concerns Gustave's improbable rise to proprietor of the Grand Budapest, a spa hotel in the last of its best days. There's more action and black humor than in other Anderson films, but the plot still serves at the pleasure of his composed shots and strange sense of humor. A secret society of concierges plays a role, as does the power of a perfect pastry and a cat in the wrong place at the wrong time.
The pink-hued hotel suffers dilapidation in the affectedly quaint way that unleashes "likes" on Instagram or, even better, bookings on Airbnb. Anderson's particular aesthetic isn't aspirational, and the director didn't seek deals with hoteliers such as André Balazs. (The German government did provide about half the funding for the movie, which was shot mainly in Görlitz, and the district gets a lovely travel brochure in return.) By contrast, Spike Jonze, the director whose work most resembles Anderson's, used his near-future film, Her, as an opportunity to sell clothes to customers who wanted its high-waisted costumes right now—he collaborated with international boutique Opening Ceremony.
Anderson is less interested in that kind of reality, probably because bringing his ideas off-screen, whether in the form of a novelty cologne, an expensive jacket, or a weekend away, would ruin the fantasy. His movies do not promise great thoughts on grand themes but a brief sojourn in which everything is stylish and exquisitely organized. Although the director made a clever and self-aware commercial for American Express, he's probably better suited as a spokesman for the Container Store.
Meanwhile, plenty of brands have found ways to capitalize on his films' look and cult popularity. (His movies average $24.6 million at the domestic box office.) Tommy Hilfiger's Meet the Hilfigers campaign in 2010 was widely recognized as a blatant Royal Tenenbaums bite. More recently, Honda Motor and Hummer have aped the precocious kids of Moonrise Kingdom.
No one pulls off this style better than Anderson, who has a sideline directing TV ads. In one for Sony's Xperia phone, an 8-year-old narrator explains how he imagines the device works, while his vision plays out in stop-motion animation. For SoftBank, Anderson cast Brad Pitt. For Prada he created a French new wave love triangle, in three 60-second installments, with actress Léa Seydoux at the center, to market its perfume. You can imagine him turning to Grand Budapest's tuxedoed-out troupe for a future campaign. And if he doesn't do it, some company surely will.
Before it's here, it's on the Bloomberg Terminal.
LEARN MORE