Aussie Is Near Three-Month High as RBA Has Only Words Left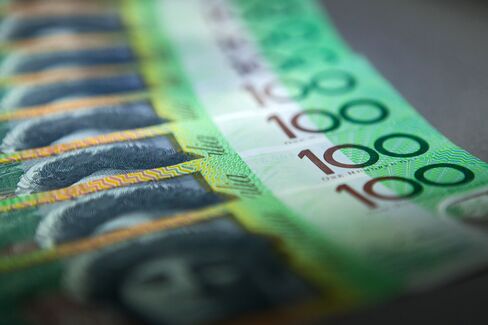 Stepping up verbal intervention may be the Reserve Bank of Australia's only option to curb the Aussie as strengthening economic data and a neutral policy stance drive the currency toward a three-month high.
The local dollar touched 91.11 U.S. cents, approaching yesterday's three-month high of 91.13, after Governor Glenn Stevens told lawmakers today jawboning has a limited effect on the currency. He said the exchange rate is high by historical standards, reiterating comments in a March 4 policy statement. The Aussie climbed this week as data showed faster-than-expected economic growth and the biggest trade surplus in 2 1/2 years.
Stevens commented on the currency in every 2013 statement since August, when he and his board made their last cut that took the cash rate to a record-low 2.5 percent. He said the Aussie was "uncomfortably high" in November and December, helping drive its worst annual drop in five years.
The currency rose last month after the RBA signaled a period of stable rates and a move away from efforts to verbally drive the exchange rate lower. It has sustained gains this month even after the central bank resumed noting its strength.
"The RBA has boxed itself in now since ramping up verbal intervention after the August cut," said Annette Beacher, head of Asia-Pacific research at TD Securities Inc. in Singapore. "If they don't talk it down, it will go to the moon."
Extending Gains
The Aussie has risen 1.8 percent this month after climbing 1.9 percent in February, the best performance in five months. Its 14 percent slump in 2013 was the biggest since 2008. The currency was little changed at 90.86 U.S. cents as of 4:42 p.m. in Sydney. It fell briefly after Stevens told lawmakers the currency over 90 U.S. cents was above the RBA's assessment.
Australia's benchmark 10-year yield touched 4.18 percent, the highest since Feb. 25. The yield on three-year debt, among the most sensitive to interest-rate expectations, added three basis points to 2.96 percent.
The statistics bureau reported a A$1.43 billion ($1.3 billion) trade surplus for January yesterday, exceeding economist forecasts for A$100 million. Other data this week showed Australian retail sales surged 1.2 percent in January, the biggest gain in 11 months, and fourth-quarter gross domestic product climbed 2.8 percent from a year earlier.
Stevens reiterated this week that steady rates would be "the most prudent course," after signaling a shift to a neutral policy bias last month.
Efforts Undercut
"The RBA has undercut its efforts at verbal intervention by shifting to a neutral bias on rates," Todd Elmer, a Singapore-based currency strategist at Citigroup Inc., wrote in an e-mailed note to clients on March 4. "By removing the threat of lower interest rates, there is less reason for investors to take RBA rhetoric on FX seriously, because this is the most powerful tool at policy makers' disposal for impacting the exchange rate."
A report in January showed the consumer price index rose 2.7 percent in the fourth quarter from a year earlier, up from 2.2 percent in the previous period and more than the 2.4 percent gain predicted by economists. The RBA targets inflation between 2 percent and 3 percent on average.
The currency's decline had contributed to a rise in consumer prices in the final three months of 2013, Stevens said in remarks to a parliamentary panel in Sydney today.
With inflation edging higher, it will probably be difficult for the RBA to keep talking the currency lower, according to Mitul Kotecha, the Hong Kong-based global head of foreign exchange at Credit Agricole Corporate & Investment Bank SA, which sees the Aussie climbing to 93 cents by Dec. 31.
"It's very difficult for the RBA against this backdrop to be too negative on the currency," Kotecha said. "If it's a gradual appreciation in the Aussie and the magnitude is as limited as we're expecting, I don't see the RBA getting in the way of that to any real degree."
Before it's here, it's on the Bloomberg Terminal.
LEARN MORE