Monte Paschi Slides After Owner Denies Selling Stake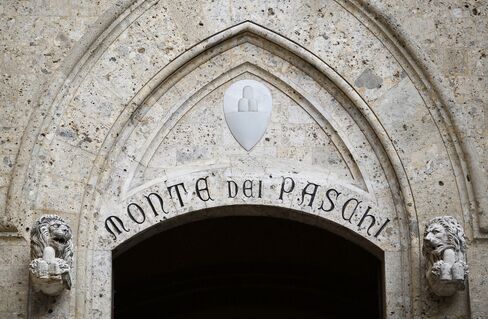 Banca Monte dei Paschi di Siena SpA, the bailed-out Italian bank, dropped in Milan trading after its owner denied selling shares.
Italy's third-largest bank was suspended from trade temporarily after falling 2.2 percent to 21.5 cents. It rose as much as 12 percent earlier and jumped 19 percent yesterday, the biggest gain on record, on speculation owner Fondazione Monte dei Paschi di Siena sold shares to foreign buyers.
Fondazione Monte Paschi said in a statement to the stock exchange that it didn't sell any of its 31.5 percent stake. Newspaper Il Sole 24 Ore reported earlier that investors, including a U.S. hedge fund, bought 8 percent of the company.
A share sale would be positive because the foundation's role in management will be reduced and will allow the bank to progress with a planned rights offer of as much as 3 billion euros ($4.1 billion), said Fabrizio Bernardi, a Milan-based analyst at Fidentiis Equities.
Consob, the market regulator, is investigating yesterday's share gain, an official said by telephone. Deals made by a few Italian and foreign brokerages brought bigger trading volume, the official said.
The foundation is in advanced talks to sell Monte Paschi shares mainly with foreign investors, Chairman Antonella Mansi said in an interview last month. It is seeking to cut its holding by May to avoid insolvency, he said.
In December, the foundation blocked a plan by the bank's management to sell shares in the rights offer in the first quarter. An extraordinary shareholder meeting delayed the sale until at least May.
Monte Paschi needs the funds from the rights offer to help repay state aid and avert nationalization. It is turning to investors after Chief Executive Officer Fabrizio Viola agreed to partially reimburse 4.1 billion euros of state aid this year.
Before it's here, it's on the Bloomberg Terminal.
LEARN MORE