Lloyds Seeks to Swap $8.4 Billion of Debt to Meet Capital Rules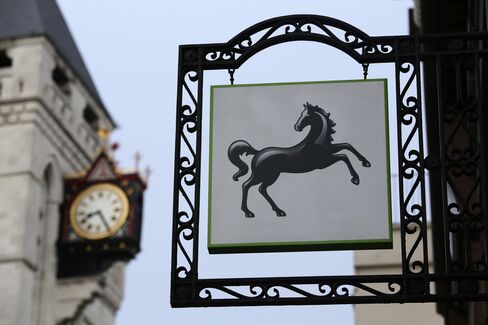 Lloyds Banking Group Plc said it plans to exchange as much as 5 billion pounds ($8.4 billion) of debt issued during its bailout in 2009 for notes that comply with new regulations governing bank capital.
Lloyds will also offer to buy back the bonds, known as enhanced capital notes, from individual investors who will be given the opportunity to retain them and continue to receive coupon payments. The transaction will result in a 1 billion-pound accounting charge and will leave about 3.5 billion pounds of the debt outstanding, the bank said in a statement.
Lloyds issued the securities to help it through stress tests that followed its taxpayer-funded rescue and recapitalization. The bank is now seeking to allay concerns the notes could be redeemed at face value because they don't meet potential changes to regulations governing securities that can count as capital.
"This all begs the question of what happens to the bonds left outstanding," said Steve Hussey, an analyst at AllianceBernstein Ltd. in London, which manages about $445 billion. "There's still the potential for a call or another exchange further down the road."
The bank's shares extended gains on the swap proposal, climbing as much as 1.86 percent to 82.23 pence in London.
Riskiest Debt
The ECNs convert into equity when Lloyds's capital ratios fall to 3 percent or less under the latest regulatory definitions, meaning it will be increasingly difficult to treat them as capital, according to CreditSights Inc. analysts. In the U.K., the bonds must trigger at a 5.125 percent capital ratio, or greater.
Under the exchange, Lloyds investors are being offered additional Tier 1 notes that are the riskiest form of bank debt. They have no fixed maturities and coupon payments can be deferred at the issuer's discretion. Issuance of the securities is growing as lenders move to comply with new European Union regulations that aim to pass bailout costs from troubled banks to investors rather than taxpayers.
"The group's management believes recent developments resulting in higher capital requirements for banks, including a changed definition of core capital, make it likely that the ECNs will not provide going concern benefit under future stress tests," the bank said in the statement.
The new AT1 bonds will have coupons of between 6.375 percent and 7.875 percent, Lloyds said in the statement.
Before it's here, it's on the Bloomberg Terminal.
LEARN MORE