Crimea Readies Secession Vote as West Announces Sanctions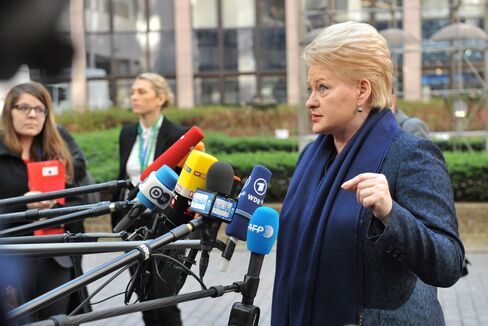 Crimean lawmakers called a referendum to return Ukraine's Black Sea peninsula to its former Soviet-era master as the European Union halted trade and visa talks with Russia to protest the Kremlin's moves in the region.
As separatist leaders in the Russian-majority region pushed to split from Ukraine, the U.S. banned visas for officials it said were complicit in violating the sovereignty of the ex-Soviet state of 45 million. At an EU summit in Brussels, eastern EU states calling for a tough line on the Kremlin clashed with western counterparts who wanted to offer Russia more time to pull back before imposing sanctions.
"This so-called referendum has no legal grounds," Ukrainian Prime Minister Arseniy Yatsenyuk said in Brussels after meeting EU leaders. "We urge the Russian government not to support those who claim separatism in Ukraine. Crimea was, is, and will be an integral part of Ukraine."
Controlled by pro-Kremlin local leaders, Crimea, part of Russia until 1954 and home to its Black Sea Fleet, has been rocked by threats from Moscow of invasion to "protect rights and freedoms" of the region's Russian-speaking community since Moscow-backed Viktor Yanukovych was ousted from Ukraine's presidency last month.
The standoff has also opened a rift between Russia and the West more than two decades after the fall of the Iron Curtain in what U.K. Foreign Secretary William Hague has called the "biggest crisis in Europe" this century.
Bonds, Hryvnia
Ukraine's international bonds due in June declined 1.4 percent to 92.377 cents on the dollar as of 7:51 p.m. in Kiev, lifting the yield by 6.9 percentage points to 43.39 percent.
Under the threat of sanctions, the Russian ruble slid for the first time in three days, by 0.9 percent to 42.49 against the central bank's dollar-euro basket by 9:52 p.m. in Moscow.
Lawmakers in Crimea voted in a non-binding measure to become part of Russia if voters agree in the referendum. They also asked Russian President Vladimir Putin and the parliament in Moscow to begin procedures for making the province a part of the Russian Federation, the state-run Crimean Information Agency reported.
Russian Majority
Officials in Kiev, who forced Yanukovych out after he rejected a deal for closer EU ties in favor of Russian aid, denounced the moves.
Acting President Oleksandr Turchynov canceled the referendum, saying it would be a "farce" and a "crime against the nation." According to Ukraine's constitution, changing the country's borders must be decided in a national referendum rather than region-by-region.
People who identify themselves as ethnic Russian comprise 59 percent of Crimea's population of about 2 million, with 24 percent Ukrainian and 12 percent Tatar, according to 2001 census data. Russians make up 17 percent of Ukraine's total population of 45 million.
"We have offered Ukrainian military forces to give up their weapons and join the Russian military, or we are ready to ensure their safety in leaving Crimean territory," Crimean deputy Prime Minister Rustam Temirgali said on Ukraine's Channel 5. He said only Russian troops are legal in Crimea and "all others, we consider as occupation."
Ship Sunk
Russia has 16,000 troops in Crimea, according to the Russian ambassador to the UN, Vitaly Churkin. Refat Chubarov, the leader of the executive body of Crimea's Tartar population, called for a United Nations peacekeeping mission to "de-escalate tensions." He told reporters today that more than 23,000 Russian troops were blocking 10 Ukrainian garrisons on the peninsula.
The Russian navy sank its decommissioned cruiser Ochakov at the mouth of Donuzlav lake on the Black Sea, trapping Ukrainian naval vessels there, Ukraine's Defense Ministry said in a statement on its website. Russian forces also surrounded Ukrainian border troops at 10 crossings and urged them to take the side of the self-proclaimed Crimean government, Ukraine's border service said in a statement on its website.
U.S. President Barack Obama's administration banned visas for Ukrainian officials and others, including Russians, who it says are threatening Ukraine's sovereignty. Obama also authorized financial sanctions, clearing the way for escalating pressure, according to a White House statement.
The administration urged Russia "to resolve this crisis through direct and immediate dialogue with the government of Ukraine." It also demanded an "immediate pullback of Russia's military forces to their bases."
U.S. Fighters
The U.S. sent six fighter jets to Lithuania and will dispatch 12 more to Poland, the two countries' defense ministries said today. The U.S. Navy sent the guided-missile destroyer USS Truxtun to the Black Sea in what it called a routine visit unrelated to events in Ukraine.
The North Atlantic Treaty Organization yesterday kicked Russia out of a naval mission to escort a U.S. warship that will defuse Syria's chemical weapons and halted day-to-day civilian and military contacts.
"Some pressure on our Russian partners will pave the way for political and diplomatic solutions, that's what I hope," NATO Secretary General Anders Fogh Rasmussen told reporters.
Today's emergency summit in Brussels had loomed as a deadline for Putin to withdraw forces to bases which Russia leases in Crimea. On March 3, EU foreign ministers demanded that Russia "immediately" take "de-escalating steps" or face consequences.
More Time
It is clear the referendum called for by Crimea would be unconstitutional and illegal and the European Commission is drawing up plans for travel bans and asset freezes against Russia if it doesn't engage in talks, British Prime Minister David Cameron told reporters in Brussels today after the emergency EU summit.
"It can't be business as usual for Russia," Cameron said. "We depend on a world where countries obey the rules."
German Chancellor Angela Merkel said the bloc could threaten Russia with broad economic sanctions. She said Russia's actions in Ukraine required a response and EU leaders "were ready to seek diplomatic avenues" to resolution.
Earlier, eastern and western EU members wrangled over an approach. Leaders from the Netherlands, Austria and Luxembourg indicated the 28-member group should give Russia more time to calm the situation while the Baltic countries and ex-communist states such as Poland urged a fast response.
Rewriting Borders
The mood at the summit shifted after a speech by Yatsenyuk, Polish Prime Minister Donald Tusk told reporters in Brussels. He proposed signing an EU association agreement as soon as possible.
Europe's fiscal crisis also cast an economic shadow over the meeting, lessening the will to curb commercial ties with Russia. Germany, Europe's largest economy, relies on Russia for 35 percent of its gas and oil imports.
European consensus was closer on a proposal to add 1 billion euros ($1.4 billion) to the 610 million euros in emergency aid that the EU plans to disburse once Ukraine strikes a standby deal with the International Monetary Fund.
Those cash injections to avert a Ukrainian default would form the nucleus of a package of grants and project loans that could top 11 billion euros over seven years, the European Commission said in making the proposal yesterday.
Observers Denied
Putin said this week that while he sees no immediate need to use force in southeastern Ukraine, he's reserving the right for military action to protect ethnic Russians in the region from extremists. Turchynov has said Russians aren't at risk.
"We are all concerned at what is happening there," Russian Foreign Minister Sergey Lavrov told reporters after a meeting last night at the French Foreign Ministry with U.S. Secretary of State John Kerry and European counterparts. "The discussions will continue, and that's it."
Before it's here, it's on the Bloomberg Terminal.
LEARN MORE