Sons of Ikea's Kamprad Emerge as New Swedish Billionaires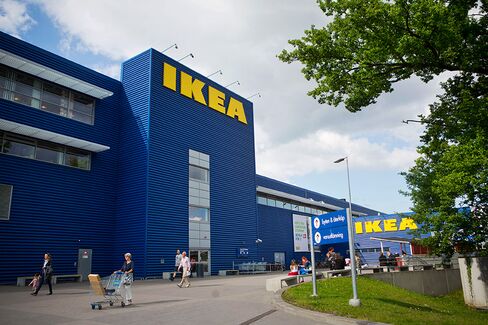 March 5 (Bloomberg) -- Ikea's flagship store in Stockholm is the largest of the furniture retailer's 349 outlets, a blue and yellow behemoth that lures shoppers into its 55,200 square-meter (600,000 square feet) building that's big enough to accommodate 10 football fields.
The shop's size and bright color scheme stand in contrast to Ingvar Kamprad, the company's founder and Sweden's richest man, who rarely gives interviews and lives modestly, shunning the "fancy cars, posh titles, tailor-made uniforms or other status symbols," that he criticized in his manifesto for Ikea written in 1976.
His three sons, Peter, Jonas and Mathias, inherited their father's predilection for privacy -- they've never given an interview to the media -- and his stake in Ikano Group, a collection of financial, real estate and retail assets that has made them billionaires.
"They are extremely anonymous," Stellan Bjork, co-author of "Ikea Heading for the Future," a book on the retailer and Kamprad family, said in a phone interview. "I sometimes joke and say I wonder if they really exist."
Established in 1988, Ikano represents a small piece of the Ikea group, which had revenue of 28.5 billion euros ($39.2 billion) in the year to Aug. 31, 2013. The company controls four Ikea stores in Southeast Asia, as well as $2.2 billion in property, an insurance unit and a credit-card business that processed $6.7 billion in transactions in 2012, according to the company's website.
Malaysia, Singapore
The brothers, all of whom are in their 40s, have equal ownership of the closely held investment entity, according to a Jan. 30, 2014, e-mail from Marie Gallstad, Ikano's head of communications. The company is valued at $3.3 billion, according to data compiled by Bloomberg. The siblings have never appeared individually as billionaires on an international wealth ranking.
Ikea, the world's largest furniture retailer, is the biggest customer of Ikano's credit-card business, which has more than 15 million active accounts, including customers of Goteborg, Sweden-based clothing retailer Lindex AB and Doncaster, England-based DFS Furniture Holdings Plc. The four Ikea stores Ikano controls in Malaysia, Singapore and Thailand attracted 17.4 million visitors and had revenue of 401 million euros in 2012, according to its website.
Ikano Ownership
"You have to separate Ikano from the other companies as it's owned only by the sons," Swedish journalist Bosse Vikingson, who has covered Ikea since 1987, said in a telephone interview. "Even so, it's closely entwined with the rest of the group."
Apart from Ikano, Ikea's group structure is comprised of Ingka Holding BV, which owns the majority of Ikea stores, and Inter Ikea Group, which controls the brand concept and franchising rights. The two structures are valued at almost $47 billion, making Ingvar Kamprad the world's seventh-richest person, according to the Bloomberg Billionaires Index.
Ingvar Kamprad founded Almhult, Sweden-based Ikea in 1943. He created a network of holding companies and legal entities more than 30 years ago with the intent of establishing long-term control of the company. Because he ultimately controls this structure, the Bloomberg ranking credits the billionaire with the value of these companies. Kamprad disputes this.
Two Foundations
"Ingvar Kamprad is not interested in money for personal consumption, his focus has rather been on securing continuous success for the company groups he founded," Per Heggenes, spokesman for Ingvar Kamprad, said by e-mail. "That is reflected in his decision to relinquish his ownership in the 1980s and instead donate the shares to two separate foundations."
His three sons declined to comment on their net worth, said Ikano spokeswoman Charlotte Boij.
Each brother serves as a boardmember of one of the three companies that constitute the Ikea group, and have spent most of their careers working for the family business.
"It's unsurprising that the trio would rather remain a little reclusive, especially as their father has the tendency to let them know if something is not perfect," former Ikea executive Lennart Dahlgren, who co-wrote the book "Ikea Heading for the Future," said by e-mail. "Ingvar Kamprad has a rare, strong charisma."
Last summer, Mathias Kamprad was made chairman of Inter Ikea Group, a move that underscored the generational change under way at the Swedish retailer as its founder takes a less active role.
"Ikea is in the midst of an epoch shift," author Bjork said. "Ingvar Kamprad turns 88 at the end of March. His oldest son turns 50. It will be very interesting to see what will happen and we don't know yet what the influence of the sons will be."
To contact the reporter on this story: Tom Metcalf in London at tmetcalf7@bloomberg.net
To contact the editor responsible for this story: Peter Newcomb at pnewcomb2@bloomberg.net